The Netherlands-based Vanquish Superyachts has received a new order - for the new 35-metre VQ115 Veloce yacht.
Translated exactly as "fast" the model is set to be the world's fastest aluminium superyacht with normal – albeit state-of-the-art – diesel engines. The very first VQ115 Veloce has been commissioned by and developed with a repeat client who loves entertaining large groups of people.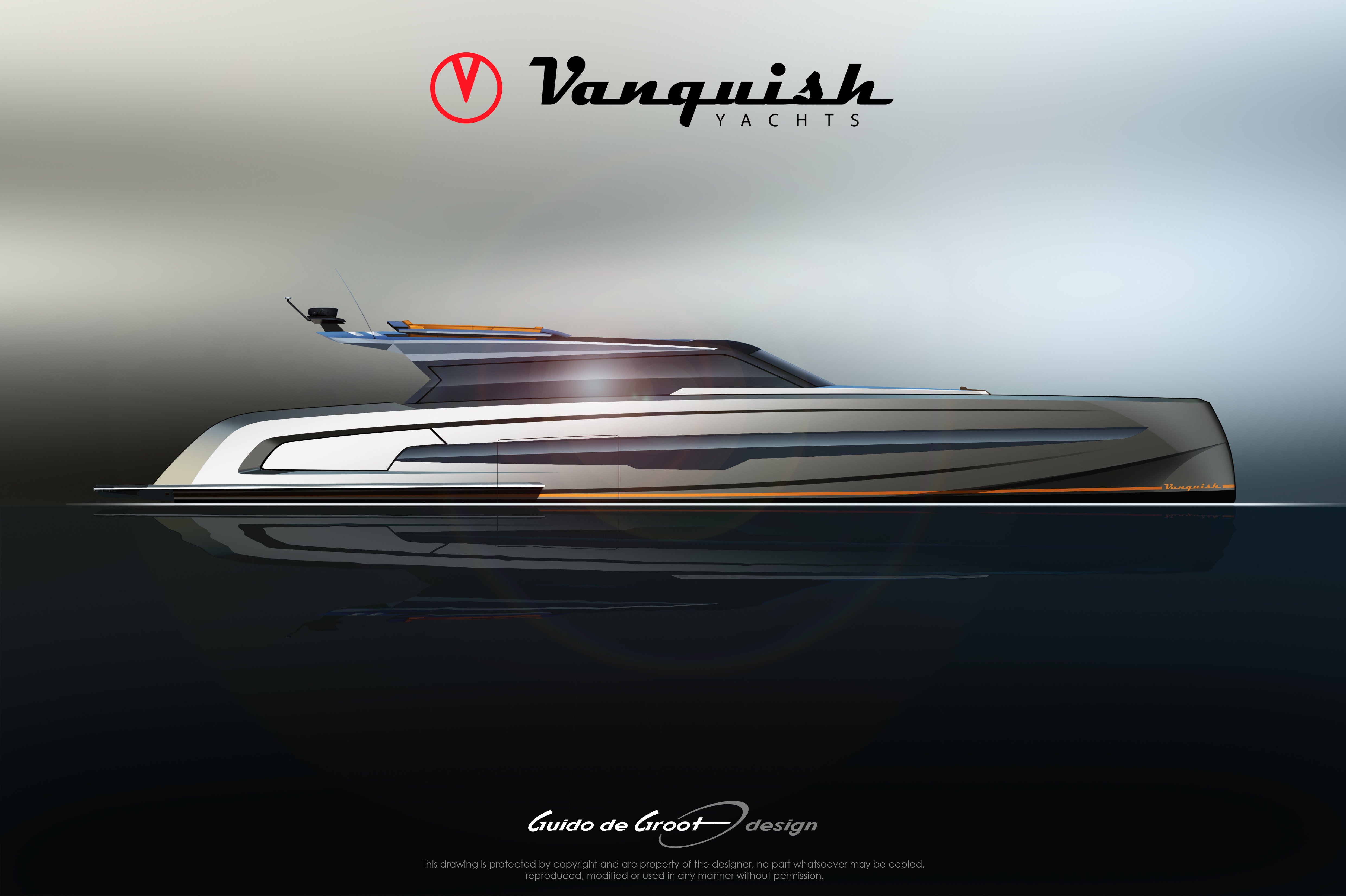 The initial discussions were based on design concepts for a VQ90 but quickly evolved as the owner added an extra cabin, a dedicated dining area on the lower deck and two garages.
A trio of MTU-Rolls-Royce 2600s engines, backed up by surface drives, will power the VQ115 Veloce to an exceptional speed of 53 knots. This makes the vessel, quite possibly, the fastest aluminium yacht over 30 metres with 'normal' diesel engines – i.e. non-turbine-driven – built to date.
Studio Delta in the Netherlands is responsible for the naval architecture of the hull, working in tandem with Swedish company Petestep to optimise comfort and performance levels and increase efficiency by over 15% at top speeds.

Exterior designer Guido de Groot and his team have a relatively narrow hull on which to base their design. An impressive range of up to 600 nm will be possible when running on one or two engines, with an extra fuel tank available for cruising at lower speeds.
Outdoor entertainment is a major factor in all areas of the yacht. The expansive foredeck, for instance, has a large seating area for lounging and dining, plus the option to lift up the sun beds and create a saltwater jacuzzi.

The interior features a futuristic style to match the exterior design, with a casual groove, emblematic Vanquish details and 45-degree treatments. A smart layout makes optimum use of the enlarged space available. The main deck saloon will be fully tailored to the owner's wishes with movable furniture to allow flexibility of occasion and time of day. Office space is included for when work calls, there is a neat pantry with its own cocktail bar, plus a day head to keep the lower deck private. Stairs rise to the sport flybridge above while the aft door opens fully to create a unified space with the aft deck: matching floors will ensure continuity between the outdoor and indoor spaces.

The lower deck features a more extensive galley and a U-shaped seating/dining area in a country kitchen style. Accommodations include a full-beam master suite, a VIP and a guest cabin, all with their own bathrooms. A dedicated media room includes a large television, a high-end sound system plus two Pullmans that bring the potential sleeping capacity to eight. There are also berths for four crew members.

This potentially record-breaking powerboat is due to be delivered to the Mediterranean at the end of June 2022 so the owners can enjoy the summer before having her transported Stateside for the Caribbean season.