Being an undeniable attribute of well-of lifestyle, yachts and superyachts are often deployed by movie directors to act as a part of their stage set. Yacht Harbour lists some of the most memorable superyacht appearances in movies and TV series.
Builder: Intermarine (2002)
LOA: 44.8 m
Movie: 'The Wolf of Wall Street' (2013)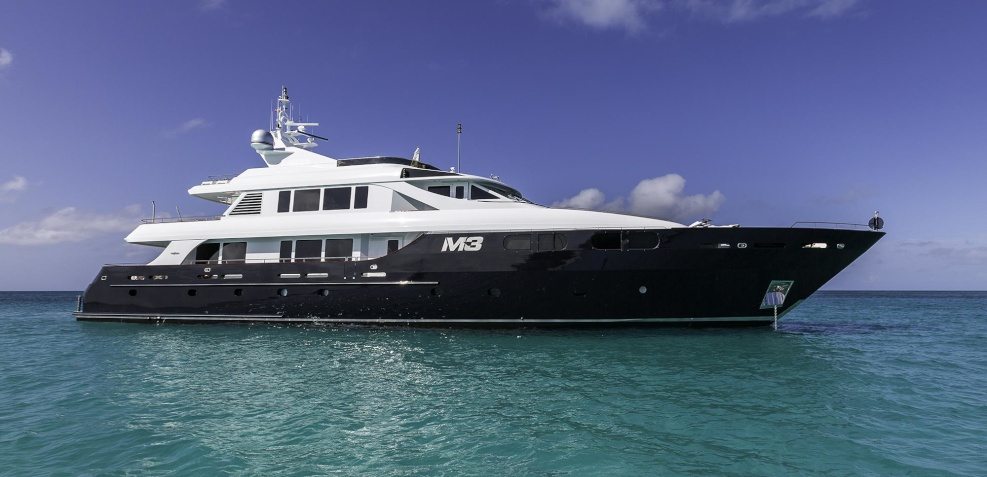 The superyacht was built by US yard Intermarine in 2002 with in-house exteriors and interiors designed by Daniella Speicht. With a beam of 8.53 metres and a draft of 2.4 metres, M3 can accommodate 10 guests across 5 cabins, including a master suite, 1 VIP stateroom, 2 doubles and 1 twin.
She is powered by Caterpillar engines of 2,250 hp each for a top speed of 18 knots and cruising speed of 15 knots.
The vessel got a crucial role in one of the most successful movies of 2013, 'The Wolf of Wall Street' by Martin Scorsese, where Leonardo DiCaprio portrayed a stockbroker Jordon Belfort.

According to the plot, Jordan Belfort splashes out on the luxury yacht he names Naomi after his second wife, followed by a famous scene with raining 'fun coupons'. What is more, later the film takes a disastrous shift when the superyacht sinks in a storm between Porto Cervo and Capri. The scene closely mirrored Belfort's real-life yachting disaster in 1997.
Meanwhile, the vessel is currently listed for sale asking $12,495,000. What is more, she is available for charter from €112,500 per week, all via Ocean Independence.
LOA: 95.2m
Movie: 'Six Underground' (2019)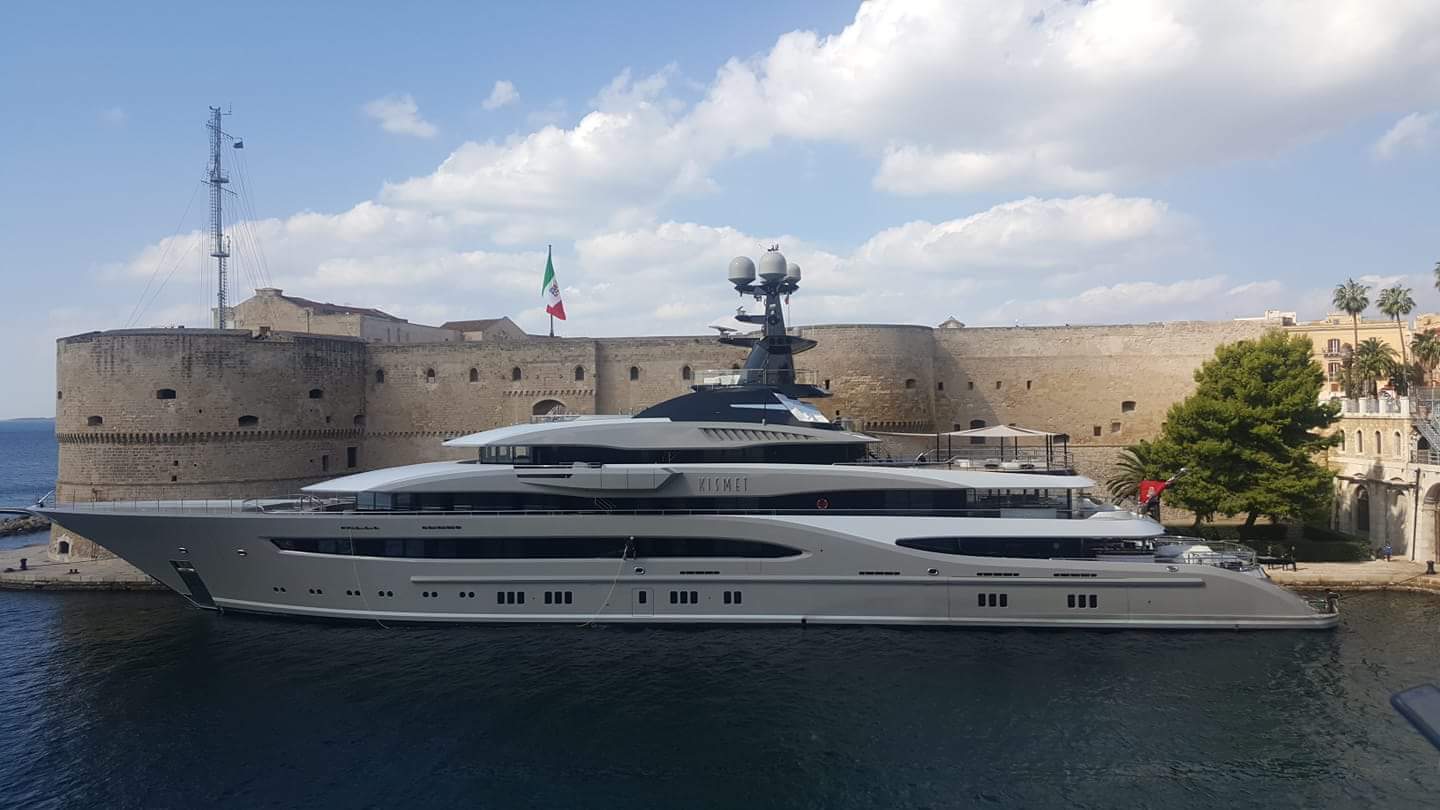 Kismet has been filmed in the forthcoming Michael Bay's movie 'Six Underground,' which has already won the record of the biggest Netflix production. Shooting in Taranto (Italy), the streaming company invested USD 150 million on the realisation of the action film, that starred Ryan Reynolds, Melanie Laurent, Dave Franco, Manuel Garcia-Rulfo, Adria Arjona and Corey Hawkins.
A party scene with around eighty guests and some other scenes were shot on-board. Meanwhile, the city has already been the protagonist of several action scenes and an explosion right next to the yacht.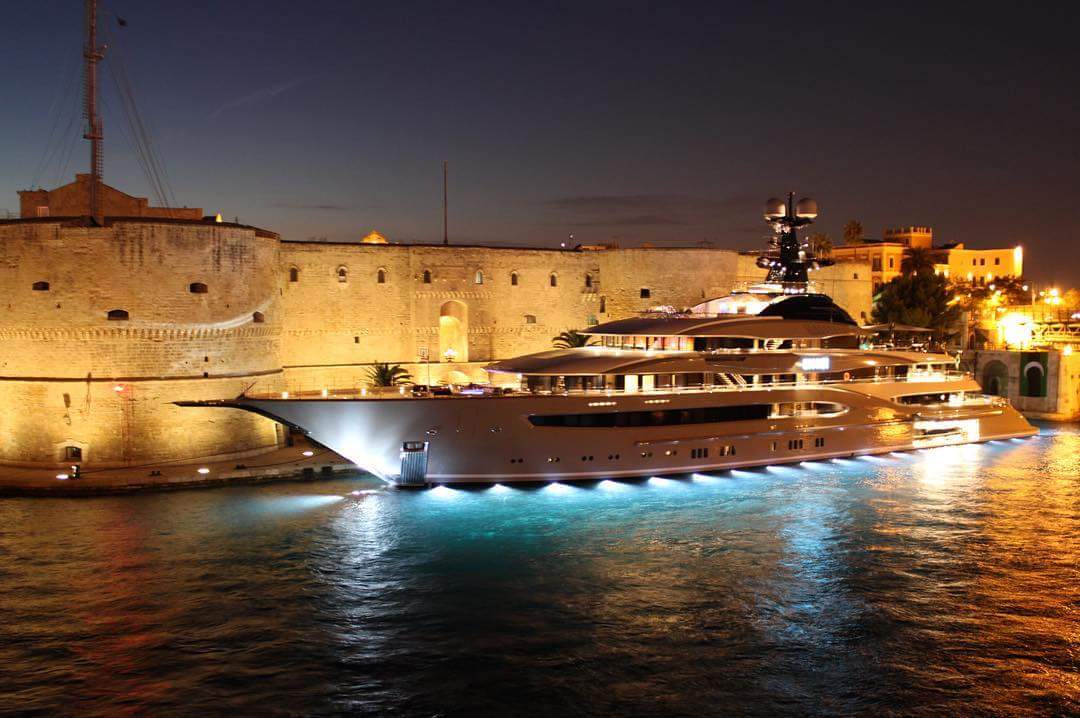 95-metre superyacht, Kismet was built in 2014 by Lurssen and is owned by Shadid Khan, Pakistani-American billionaire and business tycoon, who is also the owner of the Fulham FC and Jacksonville Jaguars. The yacht's interior has been designed by Reymond Langton Design and her exterior styling is by Espen Oeino.
Kismet is stretching over five decks, designed with corporate entertainment and charter in mind, thus suitable for parties of up to 270 guests. As an innovative feature, Kismet boasts video walls, extending up to two decks high, able to show regular television but programmed to display high-definition moving artwork.
Builder: Mondomarine (2017)
LOA: 60.2m
Movie: 'Murder Mystery' (2019)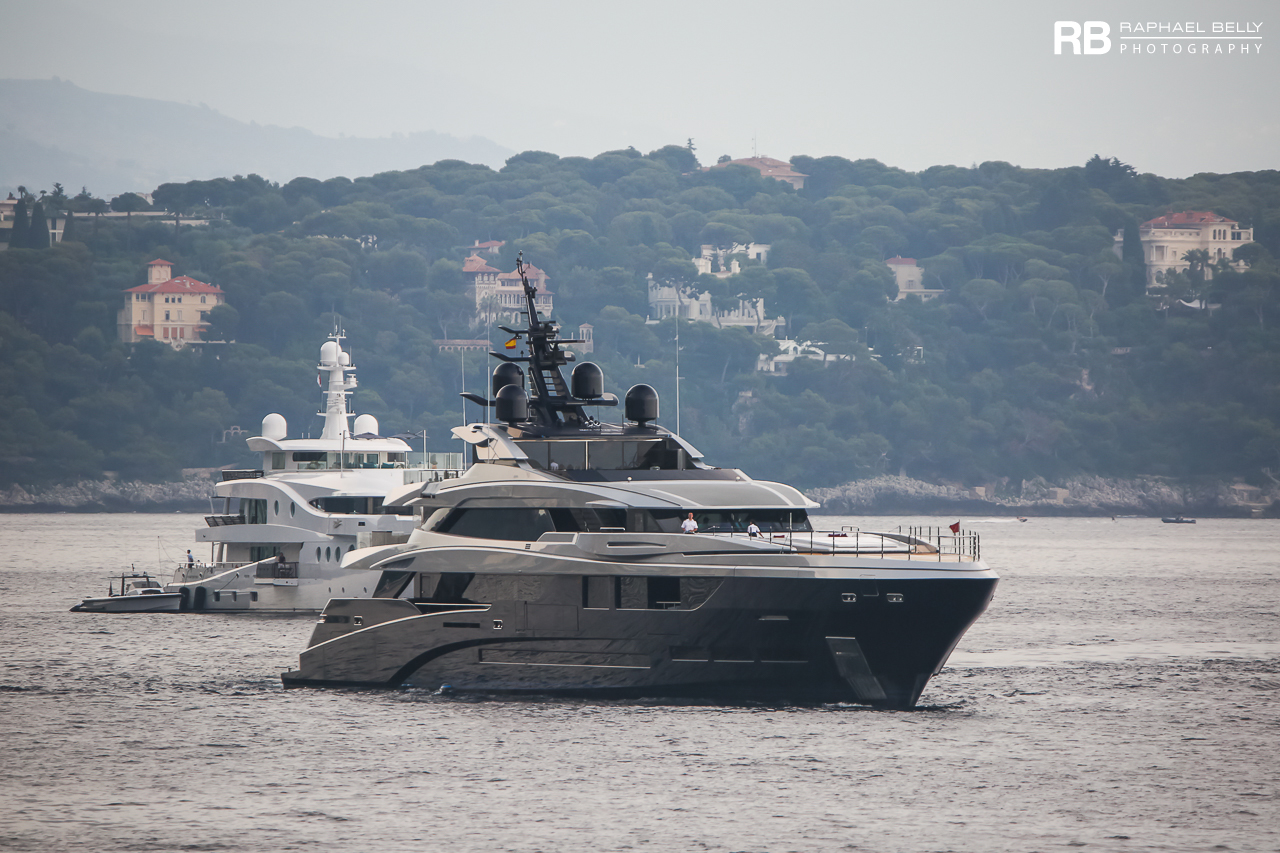 60-metre superyacht Sarastar came to small screens this year, as she has one of the leading roles in a movie, alongside with Hollywood superstars - Adam Sandler, Jennifer Aniston and Luke Evans. All together, they have appeared in a mystery-comedy for Netflix called 'Murder Mystery'. The plot develops over a married couple who are caught up in a murder investigation on a billionaire's yacht.
Built in 2017 by Italian yard Mondomarine and designed by Luca Dini inside out, Sarastar represents a sportive and elegant vessel capable of reaching a maximum speed of 19.5 knots and a cruising speed of 18 knots.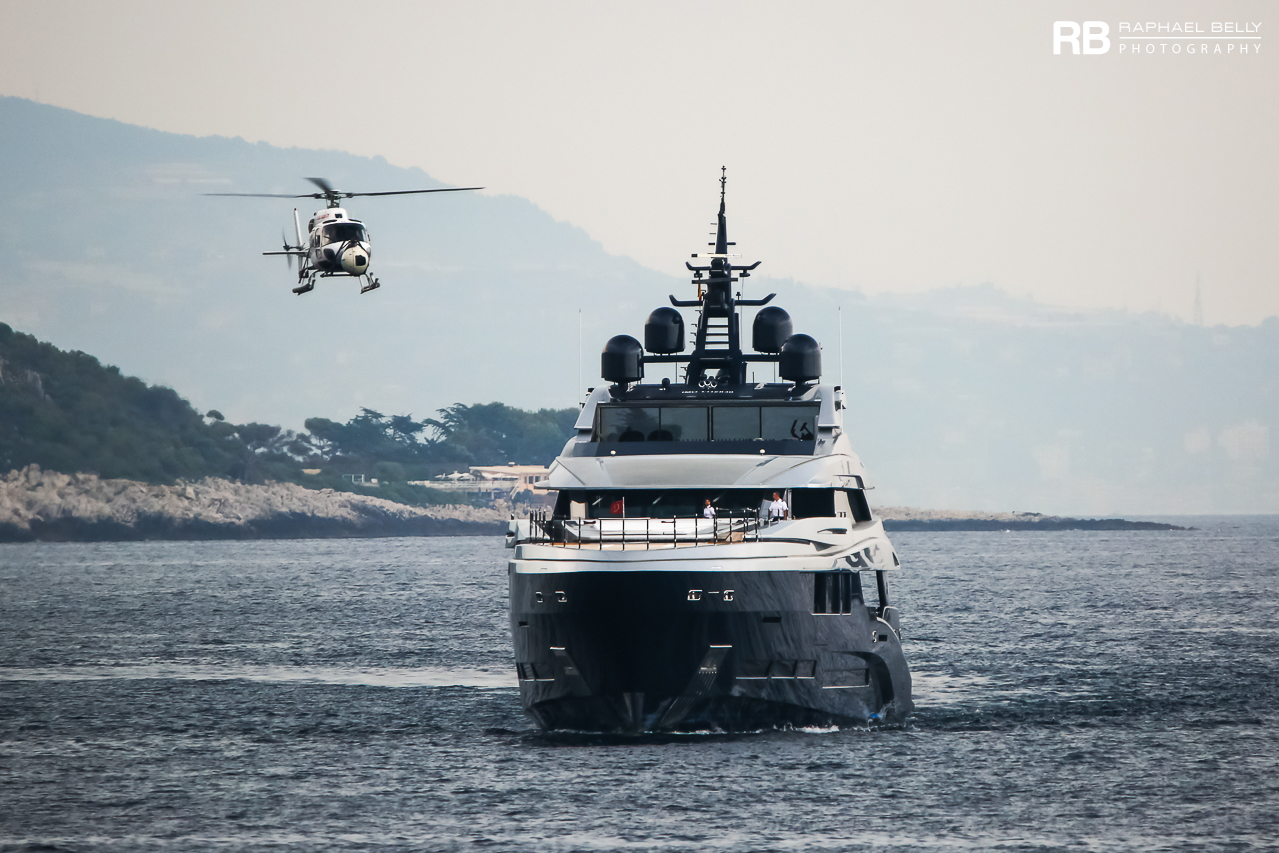 One of the main characteristics of the yacht is her completely closed forward area in which the garage is located. The tenders are hidden under a flush bridge that can be used as helipad, sunbathing area for guests or dance floor. Another key feature is represented by the stairs that lead one from the sundeck directly to the side of the wheelhouse. Sarastar can sleep up to 12 guests in a master suite and 5 double staterooms.
The vessel is currently on sale asking € 50,000,000, and available for charter from € 327,600 per week via
Burgess
.
Builder: Mondomarine (2017)
LOA: 60.2m
Movie: 'Absolutely Fabulous: The Movie' (2016)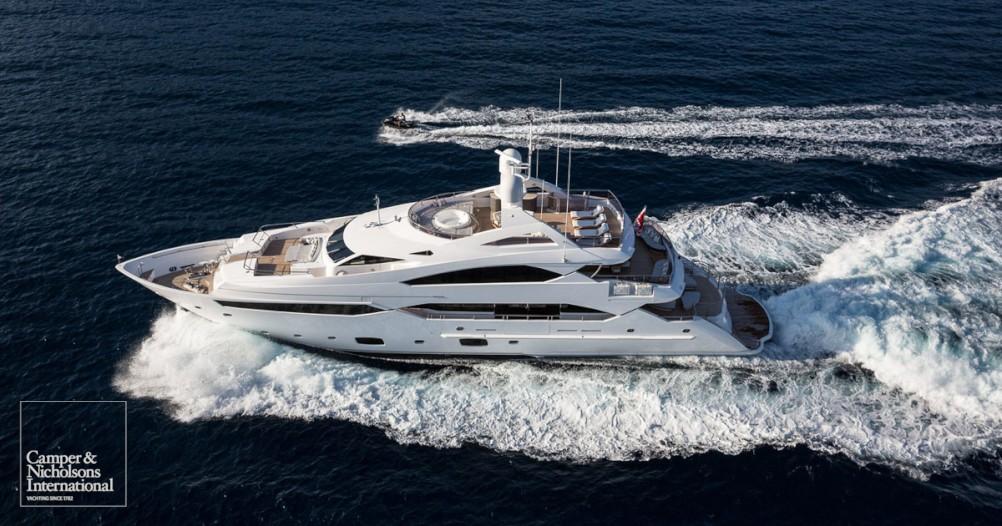 The 40-metre Sunseeker superyacht made a star appearance in the 'Absolutely Fabulous: The Movie,' where Edina (Jennifer Saunders) and Patsy (Joanna Lumley) are seen sipping Champagne on Thumper' sundeck cruising the coast of Cannes.

One of the largest Sunseeker deliveries, Thumper features exterior design by Sunseeker and bespoke interiors by HPM. With a single master cabin, two doubles and a twin, Thumper can house up to ten guests, with an attendant crew of 9.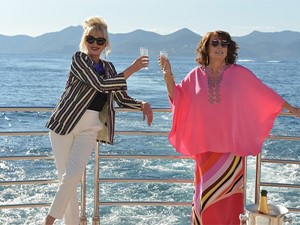 One of the key rooms on-board is the yacht's main salon decorated with bespoke furniture and especially commissioned artwork, complemented by a bar. The yacht's interiors are highlighted through the use of leather, pale timbers, and semi-precious stone.
The vessel is currently on sale asking €11,970,000, and available for charter from €155,000 per week via
Camper and Nicholsons
.
LOA: 46.94m
Movie: 'Entourage' (2015)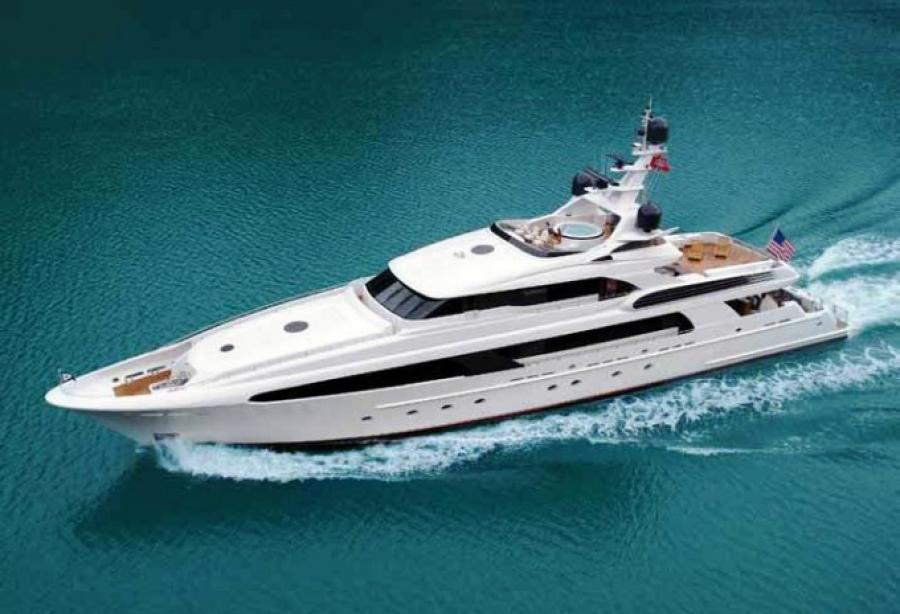 The 47-metre superyacht by US builder Delta Marine was featured in the opening scene of the movie 'Entourage', which was a continuation of the HBO TV series of the same name. In the scene, a movie star Vincent Chase, together with other leading characters appear surrounded by a crowd of models when a huge party on-board Usher finishes.
Usher was built by Delta Marine in 2007. She is designed from the outside by Delta Design Group, who also worked on her engineering, complemented by Polynesian interior styling by Juan-Carlos Espinosa.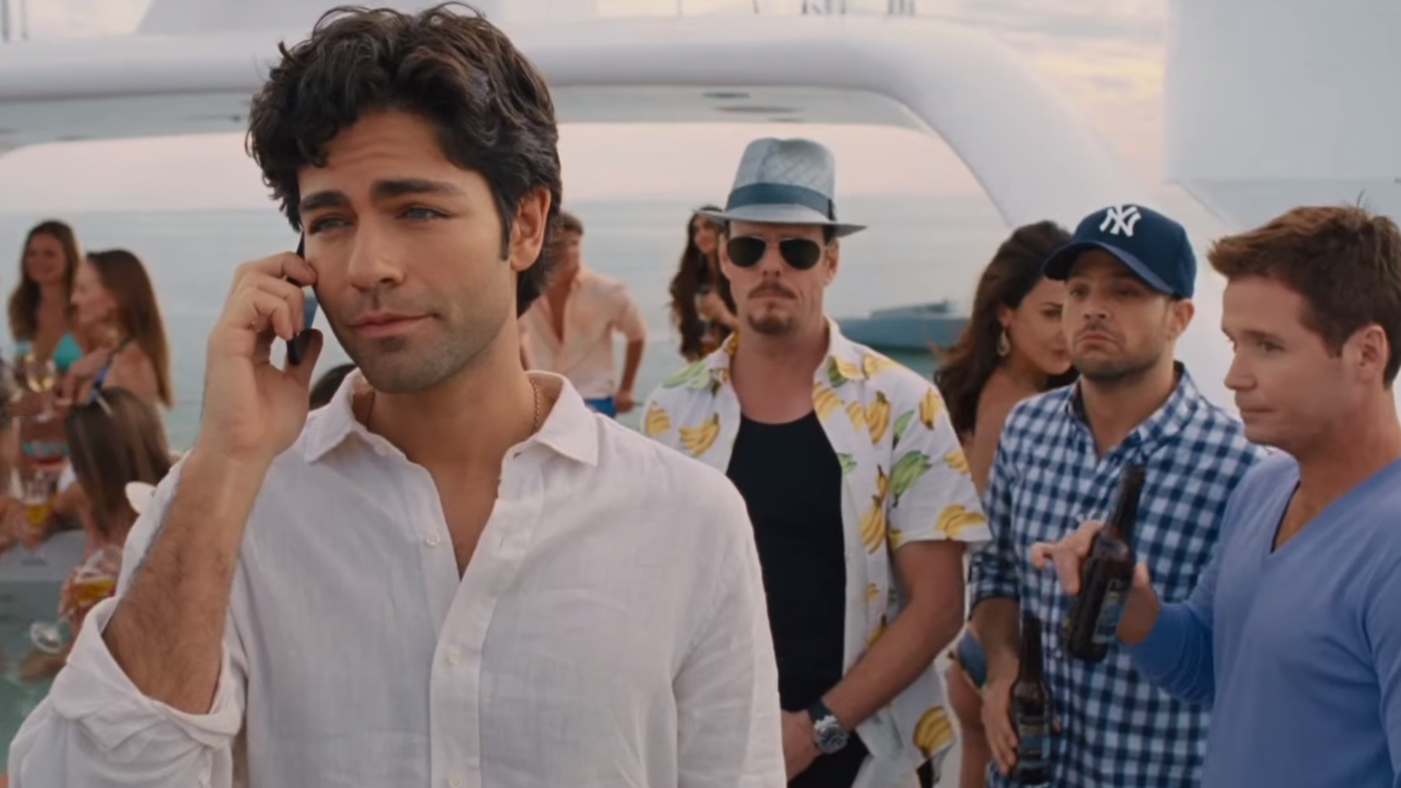 Offering accommodation for 12 guests across 5 cabins, Usher is trademarked with a sundeck Jacuzzi and wet bar, underwater camera on the stern, a fishing cockpit and a beach platform with a hydraulically-operated swim ladder. With a beam of 8.94 metres and a draft of 2.29 metres, she has a GRP hull and superstructure. Her top speed makes 22 knots, with a cruising speed of 20 knots.
Movie fans hoping to recreate the opening scene could charter Usher from $200,000 per week, as of 2015.
LOA: 51.13m
Movie: 'Syriana' (2005)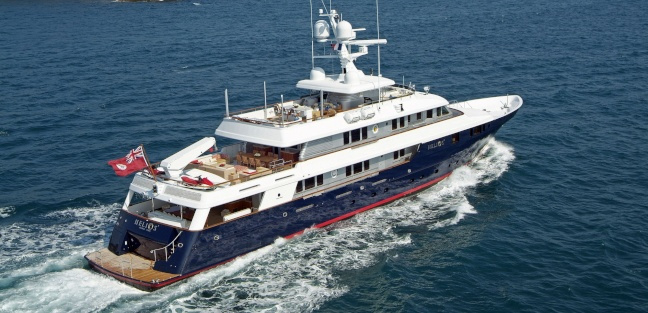 Helios 2, formerly known as Anson Bell, was built by a renowned US yard
Palmer Johnson
in 2002. The superyacht appeared in the Oscar-winning geopolitical thriller 'Syriana' with George Clooney and Matt Damon. This vessel was deployed for depiction of wealthy lifestyle of Middle Eastern Princes.
Helios 2 features interior design by Ramsey Engler and exterior styling by Sparkman & Stephens. She has aluminium hull and superstructure, along with a state of the art stabilisation system. With a cruising speed of 12 knots, she reaches her maximum speed at 14.8 knots and boasts a range of 4,000 nautical miles.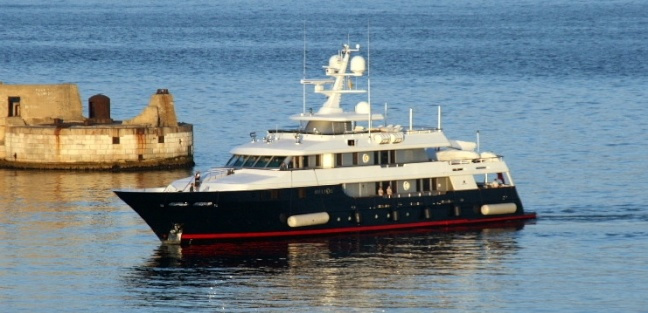 Extensively refitted in 2006, the superyacht can sleep up to 12 guests across a master suite, two double staterooms and two twins. Additional amenities include a wide assortment of water toys, exercise equipment, large tender, shade for alfresco dining, multiple areas for sunbathing and a Jacuzzi.
Helios 2 is available for charter from $ 175,000.
Builder: Med Yachts (2011)
LOA: 56m
Movie: 'Skyfall' (2012)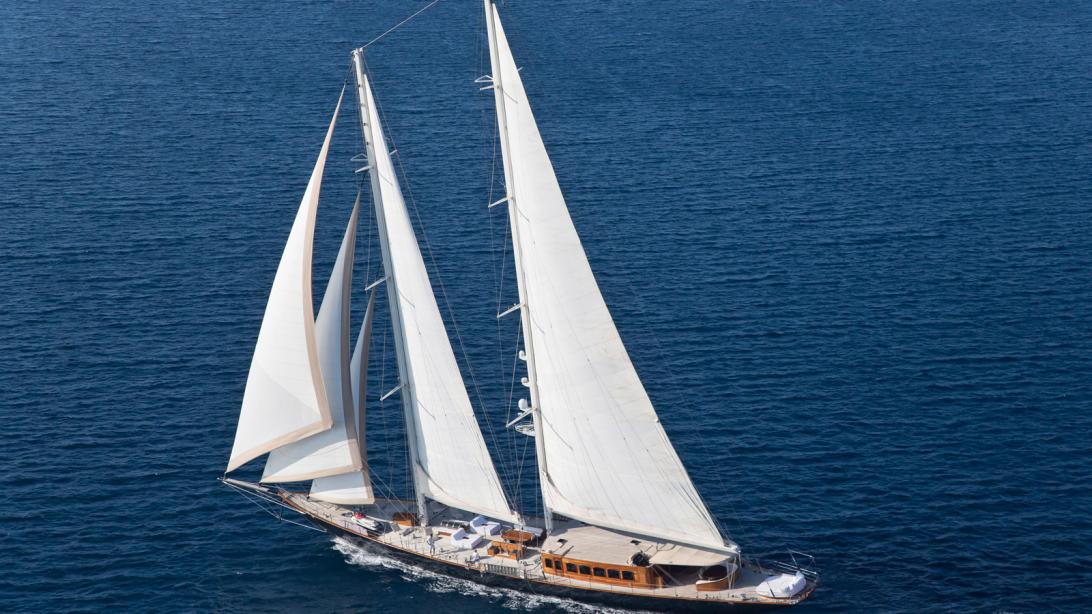 Still, many viewers would definitely remember the impressive debut of the sailing superyacht Aria I in 'Skyfall' episode. In the movie, Aria I acted as a setting when James Bond was sailing to villian Raoul Silva's hideaway, Hashima Island, about 9 miles off the Japanese Coast in the East China Sea.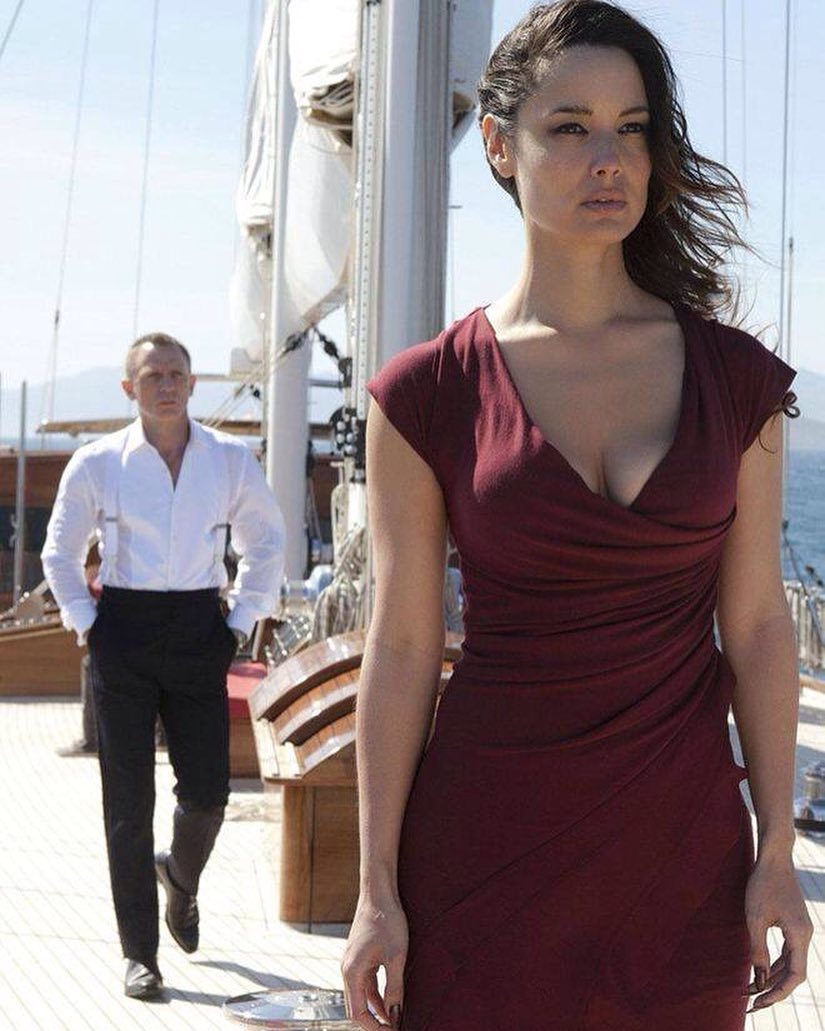 The steel schooner features exterior design by Ayberk Apaydin and interiors by Aylin Ors. She is powered by MAN engines of 440 hp each for a top speed of 12 knots. Aria I can accommodate 12 guests across 6 cabins.
The yacht is available for charter through
IYC
from €65,000, flying the Greek flag with full permits to cruise to the Greek islands from her home port in Piraeus.
Builder: Chediek (1985)
LOA: 45.6m
Movie: 'The Bourne Identity' (2002)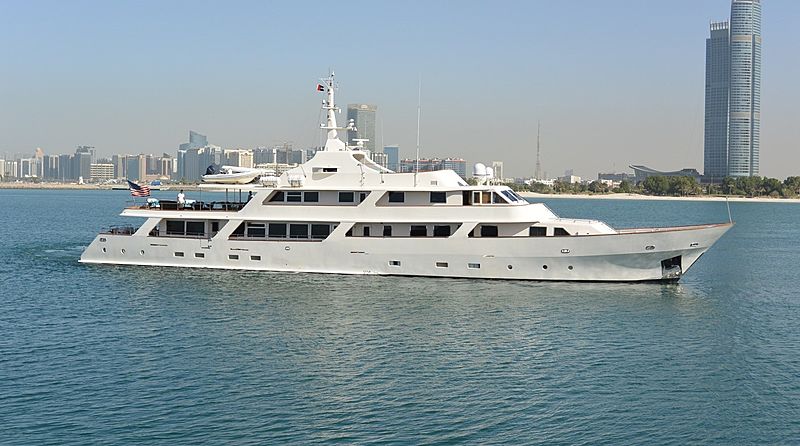 The superyacht appeared in espionage thriller 'The Bourne Identity', the very first film of the Bourne trilogy. During a few flashbacks of Jason Bourne aboard White Knight, there are a few shots of her interiors to be witnessed, right before Bourne jumps off the yacht and floats away in the ocean after being shot.
Built in 1985 by Astillero Jorge R Chediek and fully refitted in 2000, White Knight is a classic displacement yacht that can accommodate up to 12 guests. Her exteriors were developed by Jorge R. Chediek and Aldo Viani, complemented with interiors by Katia Corfini. The superyacht is featured with exceptionally spacious deck areas with al fresco dining, alongside a variety of water sports equipment, like the Taipan III.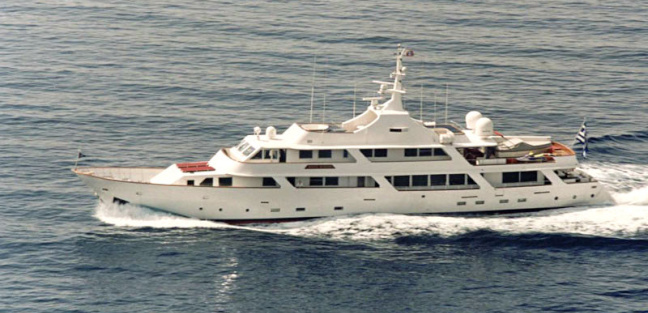 White Knight is powered by General Motors engines of 1325 hp each giving her a maximum speed of 16 knots and a cruising speed of 14 knots.
Builder: Wally (2003)
LOA: 36m
Movie: 'The Island' (2005)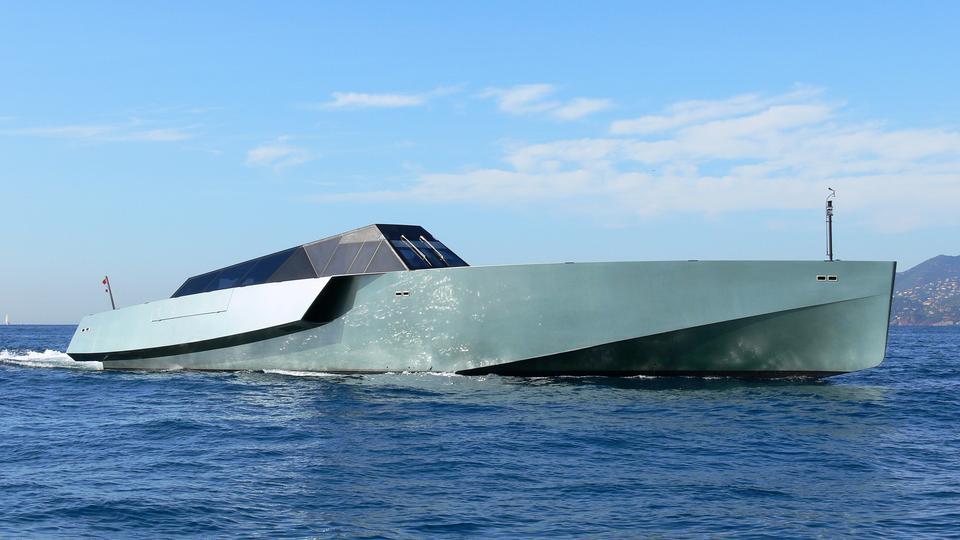 Very eye catching and one of the fastest vessels in the world, Galeocerdo made an appearance in American science fiction thriller 'The Island'. Onboard the superyacht, the main characters Lincoln Six Echo (Ewan McGregor) and Jordan Two Delta (Scarlett Johansson) sailing away in the sunset after finally being freed.
The vessel was built by Wally in 2003. Her most impressive highlight is her capability of a maximum speed of 65 knots, along with cruising speed of 45 knots, thanks to by engines of 5600 hp and a composite hull and superstructure. At the same time, her maximum range is estimated at 1500 nautical miles.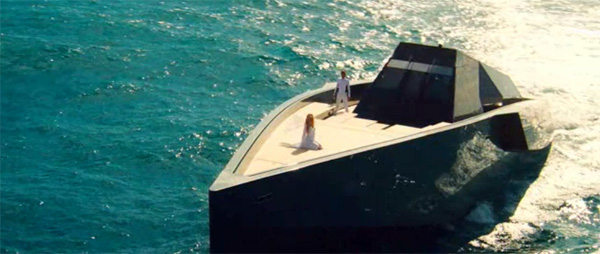 Galeocerdo offers accommodation for up to 6 guests across 3 cabins, with interiors by Lazzarini Pickering and exteriors by Wally in-house team.
Builder: Benetti (1980)
LOA: 86m
Movie: 'Never say never again' (1983)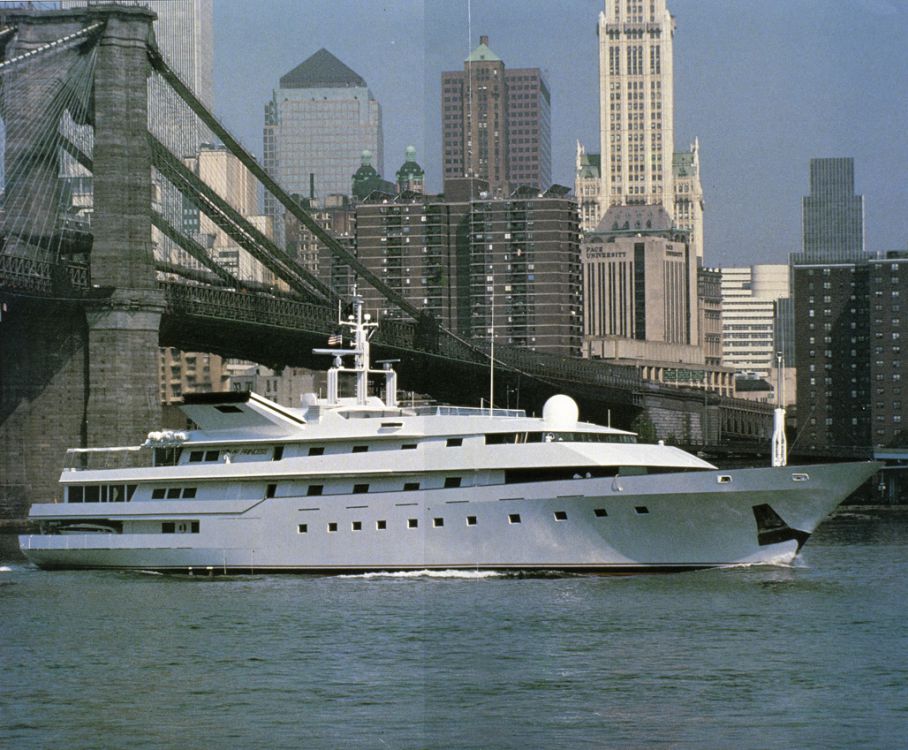 Last but definitely not the least, the 86-metre superyacht Kingdom 5KR starred in another James Bond movie, 'Never say never again'. In the movie, the vessel was seen as Flying Saucer, the floating base of arch-villain Ernst Stavro Blofeld.
Kingdom 5KR was launched by Benetti in 1980 and as the yard's flagship and the world's 8th largest superyacht. She was designed by Luigi Sturchio and originally named Nabila, remaining Benetti's largest vessel until the 2016 launch of the 90-metre Lionheart.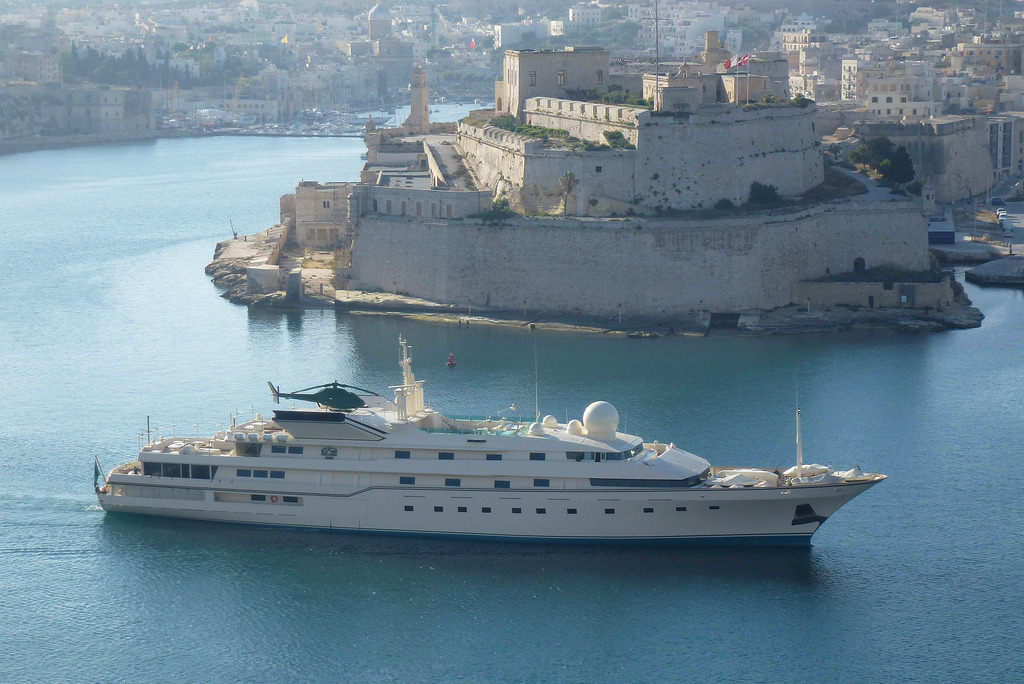 The superyacht features five decks, a disco, a cinema with seats for 12 and 2 double beds, 11 opulent suites, a helipad on top (its funnels are sloped outward to avoid interference with the helicopters), a pool with a water jet on top in front of the heliport, 2 Riva tenders, a crew of 48, a top speed of 20 knots, and cruising speed of 17.5 knots.