Douce France, also known as 'the Gentle giant', is the largest schooner sailing catamaran in the world. This luxurious and exquisite vessel has been introduced to potential buyers - for the first time in more than 15 years.
The catamaran is 42.2-metre long, with a beam of 15.4 metres, and features 6 cabins to comfortably accommodate up to 12 guests. Built in 1998 by Alumarine, Douce France has an aluminium hull and aluminium superstructure. The maximal range is estimated at 3,500 nautical miles.

Refitted in 2015 the yacht has been continuously upgraded and is unbelievably well-maintained. Designed for adventure, yet she has a warm and intimate feel.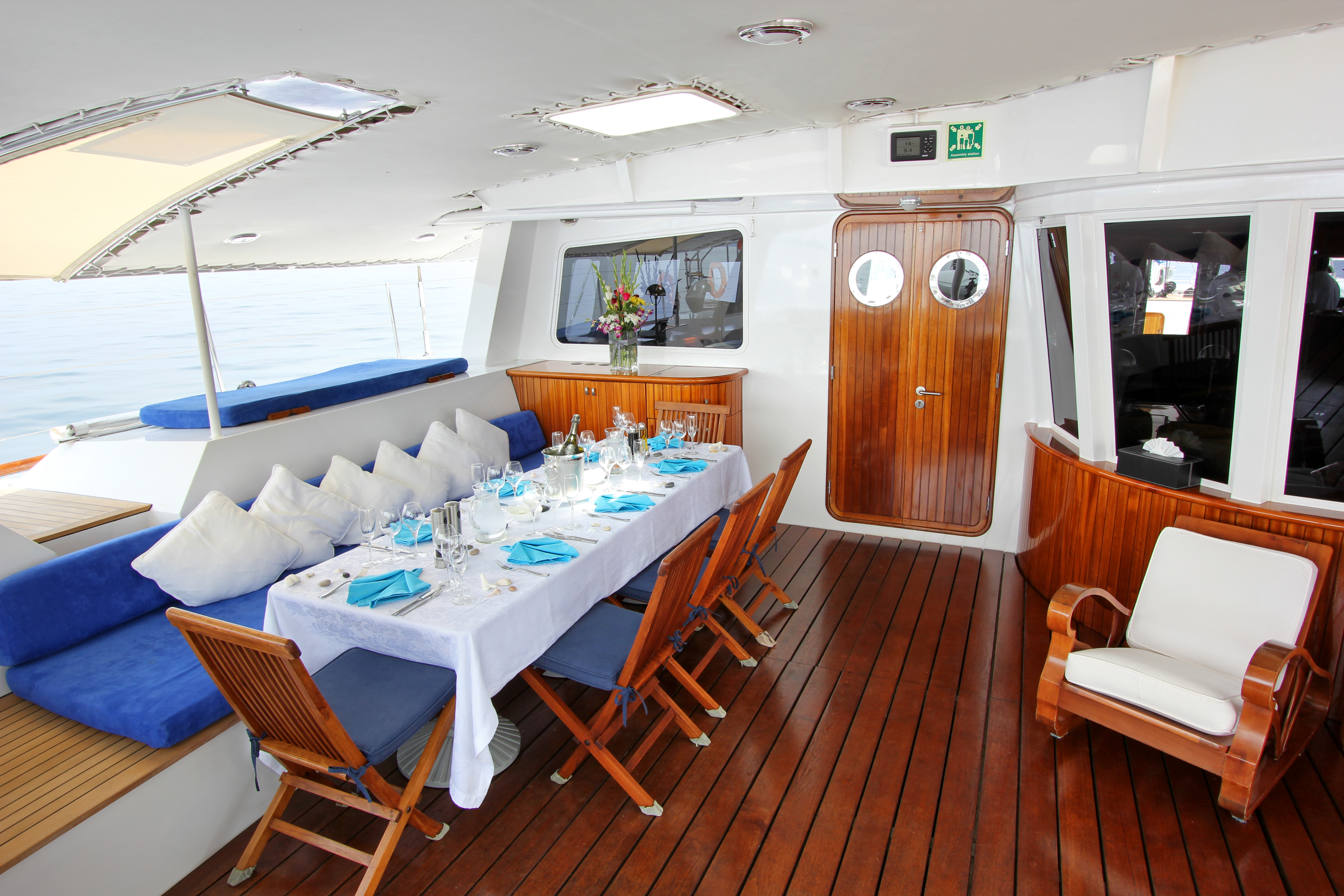 The schooner can achieve 13-knot speed under engine thanks to her new main engines. Newly installed feathering Maxprop propellers improve the ship's performances even more. The new headsail furlers and renewal of the running rigging, including the lazy jack system, are part of the recent upgrades. Her shallow draft and fine line on the water means she allows you to set sail to discover the world's most beautiful and unspoiled places. Douce France's sleek lines reveal just how fast she is.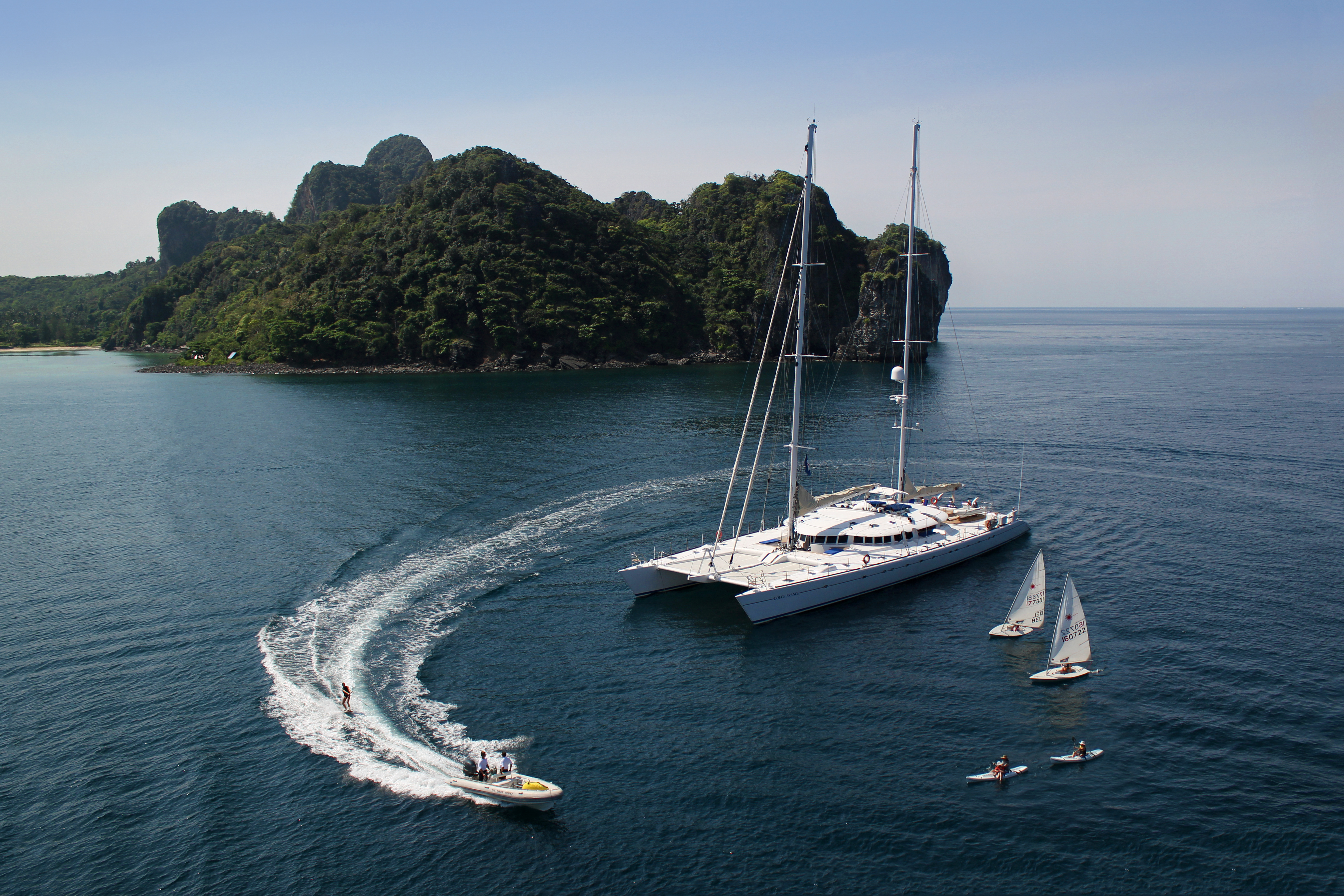 Douce France graces the tropical blue waters with her gentle yet impressive appearance. Designed by world-renowned naval architects and multi-hull specialists VPLP (Van Peteghem and Lauriot Prevost), she is an elegant, sophisticated and sexy catamaran. Her shallow draft allows you to set sail to unspoiled places, and her sleek lines mean that she can achieve high speeds under sail.
Her latest upgrades include 3 new silent Kohler generators, new headsail furlers, autopilot and the latest VSAT satellite connection. These upgrades, combined with great maintenance, makes her readier than ever for long and off the beaten path adventures.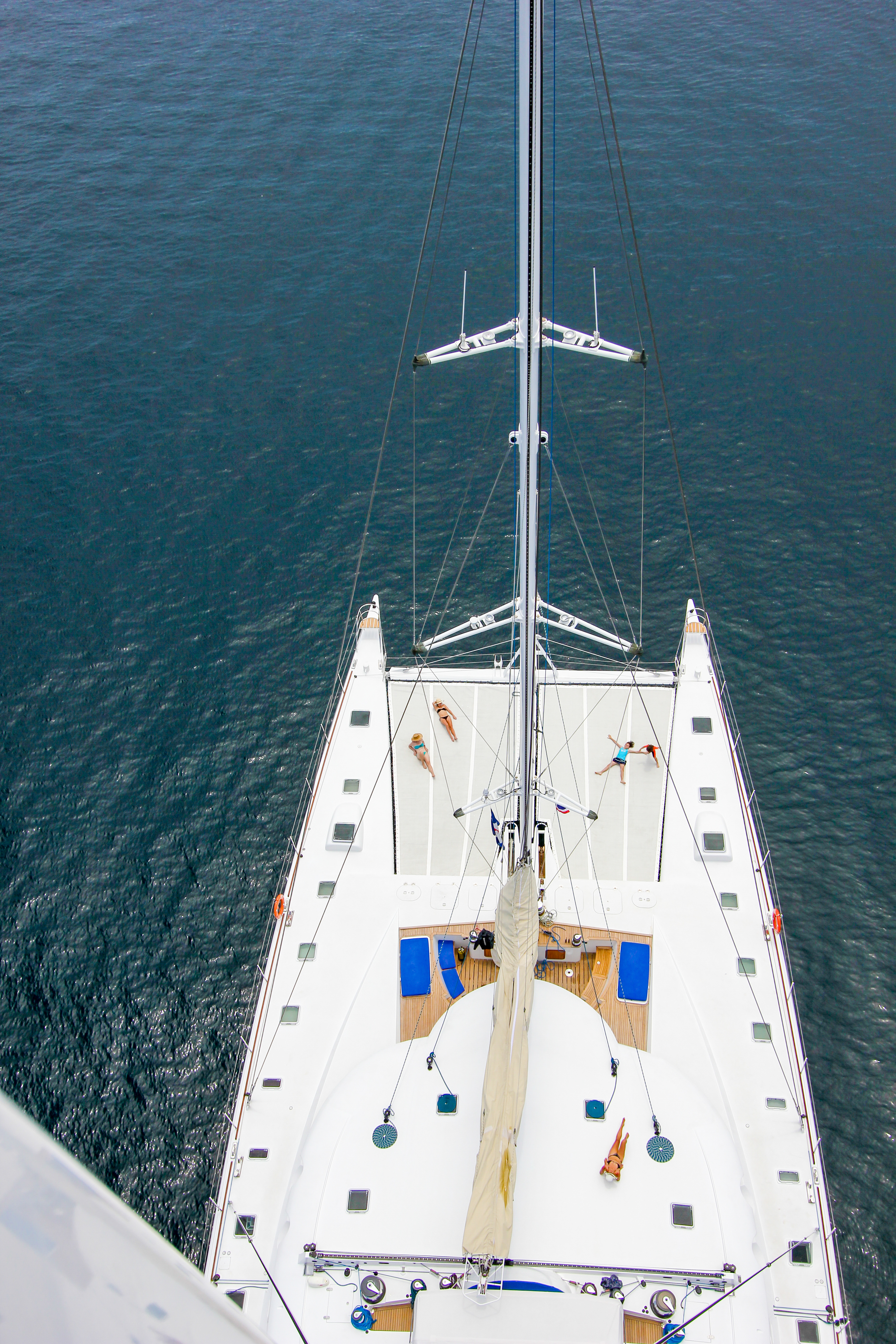 Douce France has been under Exmar Yachting's professional technical management since 2004. This means the new buyer has the unique opportunity to receive years worth of information and insight about her history, specifications as well as previous itineraries. She's proven to be very popular on the charter market, a potentially interesting feature for her new owners.
Douce France's interior is the essence of elegance. Guests appreciate her spaciousness: with her large deck spaces and six air-conditioned staterooms, Douce France's layout is perfectly catered towards hosting large groups or families.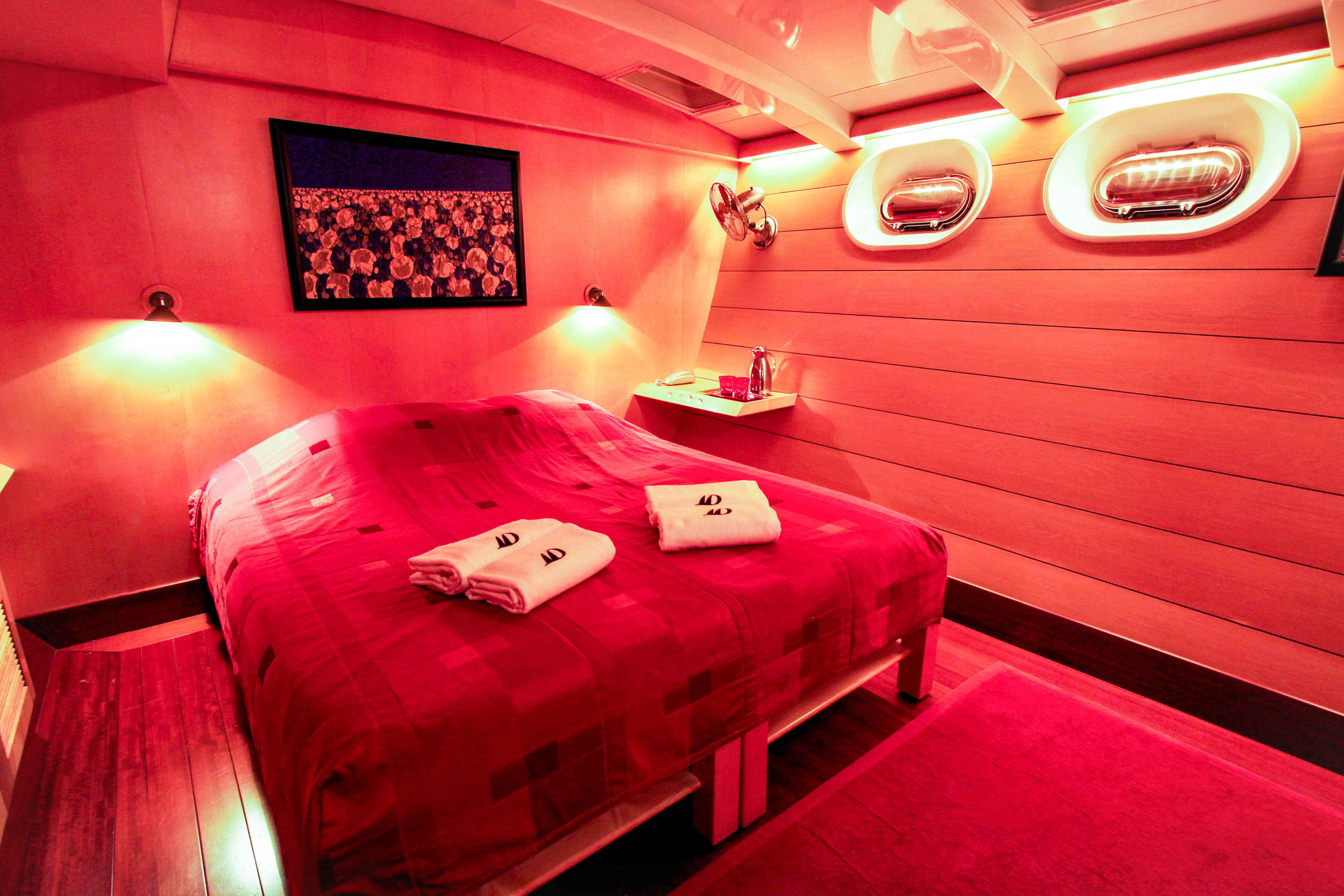 The galley, situated below deck, leaves room for a spacious saloon. This incredibly generous saloon has a private office space and library to enjoy. The wooden floors are smooth to the touch, creating a warm and inviting feel throughout the interior.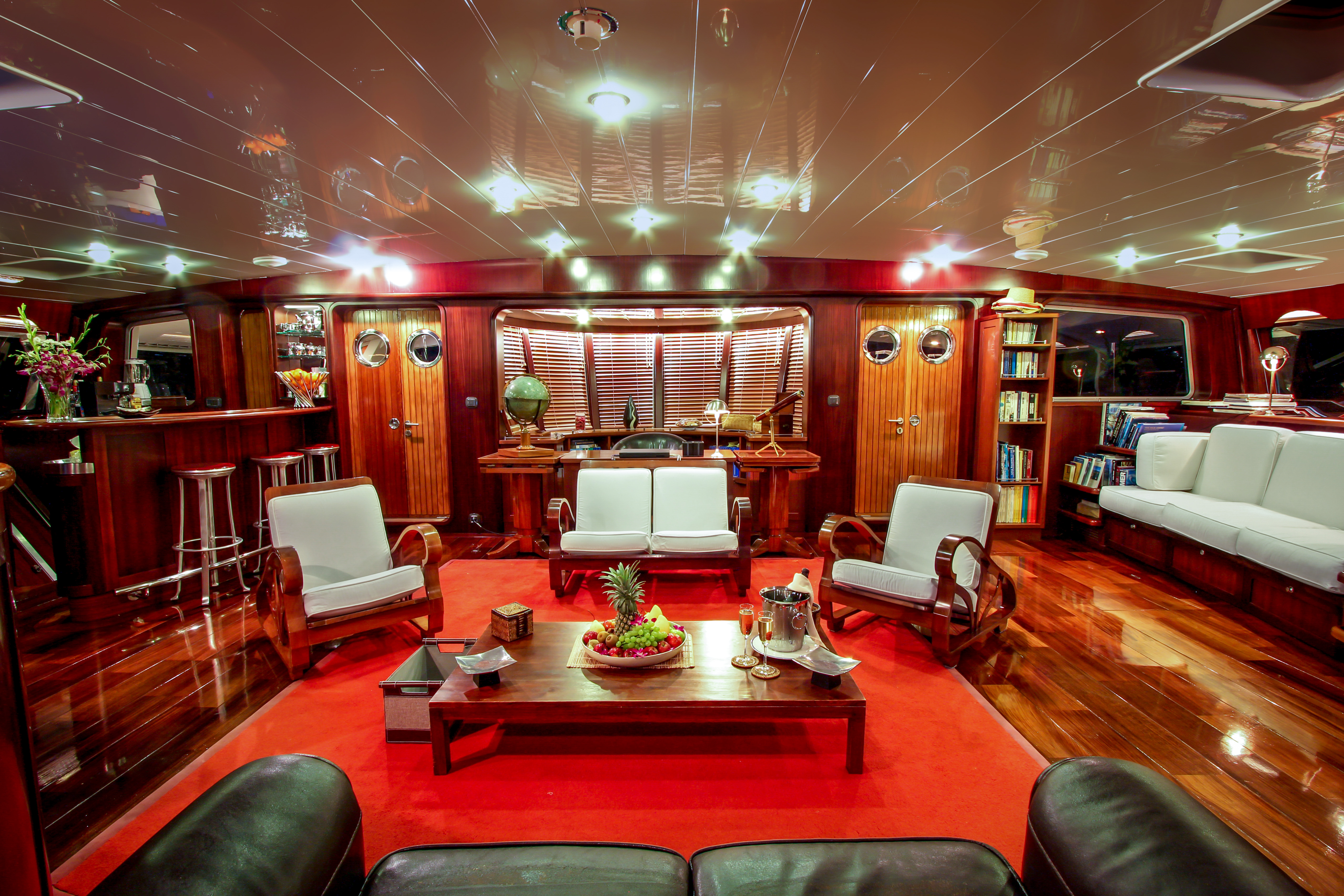 As Douce France has incredibly spacious decks, guests have a choice of multiple lounge areas where they can wine and dine, enjoy a cocktail or simply sit back and relax. There is the spacious cockpit, pleasantly shaded by the overhang of the flybridge; the flybridge itself, perfect for enjoying a cocktail while observing the captain; the intimate lounge to retreat to on cooler evenings; the aft deck, where you can dine under the night sky in the warm breeze; and the trampolines, which lend themselves as an exquisite sunbathing area while enjoying the refreshing ocean spray.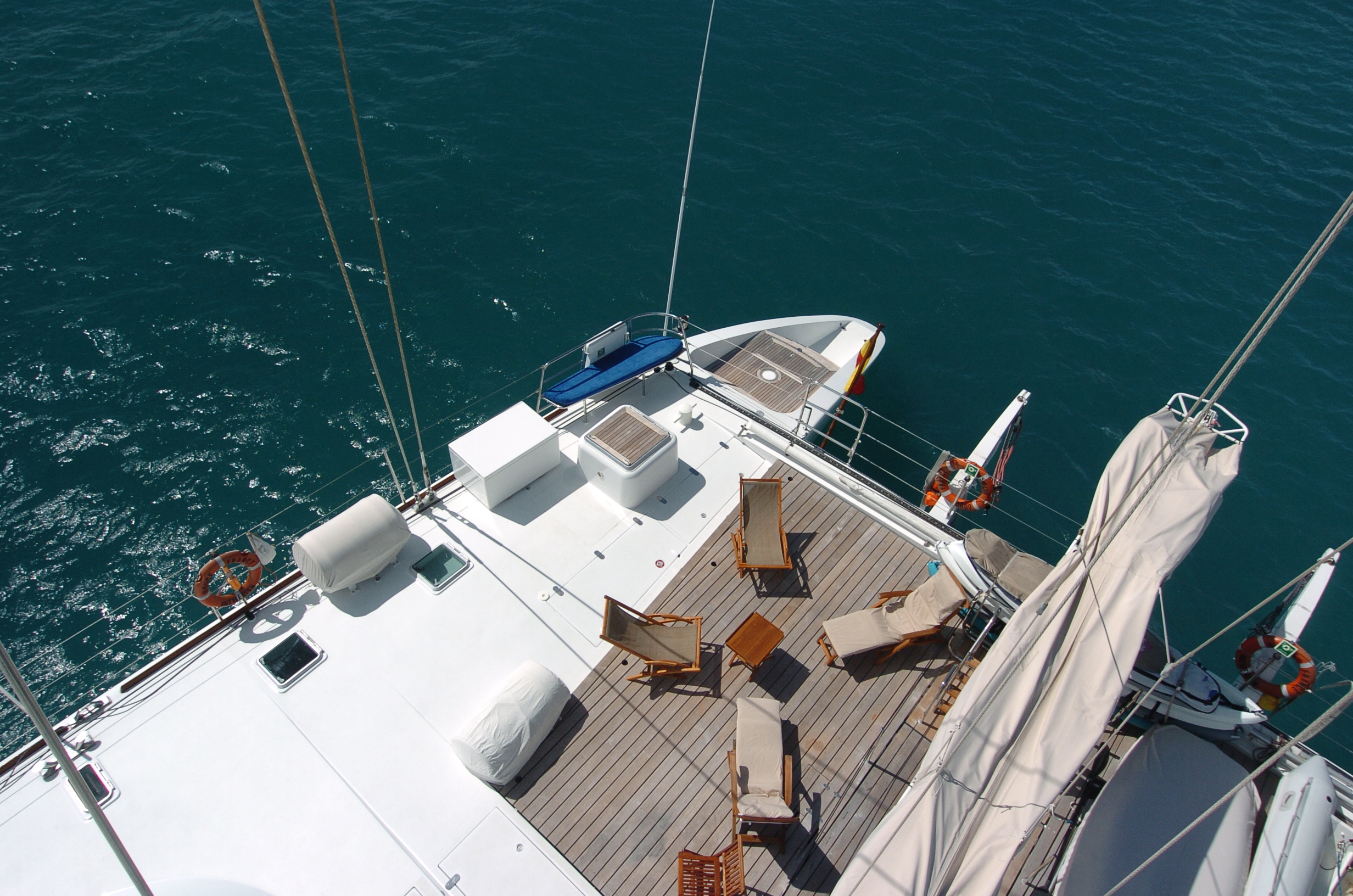 Douce France has plenty to offer to active guests. With a large selection of water sports equipment, you can enjoy a range of activities such as water-skiing, kayaking, sailing, fishing and windsurfing. She also has all the diving equipment to explore life below the waterline. The large, hidden swimming platform drops below the waterline, allowing you easy access back on board.