Sea Coral
2 is the third hull in the award-winning
Arcadia A105
series.
Sea Coral 2
is a 31.5 m long, 7.76 m wide yacht. The hull and deck are built in fibreglass, while some of the veranda's elements are made with aluminium. All this adds up with a full load displacement of 145 tonnes.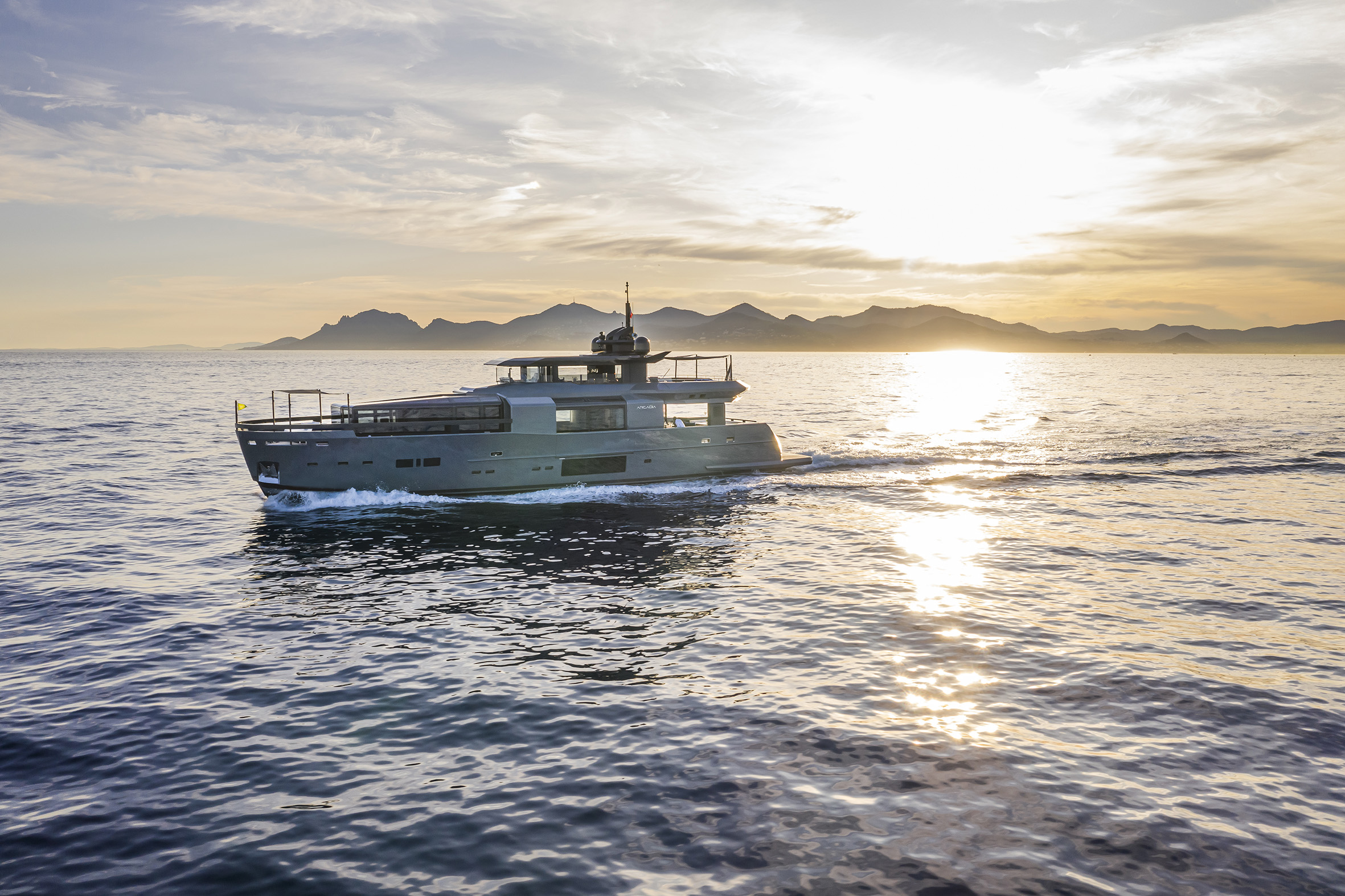 The interior decor was created in collaboration with the owner's personal designer and the support of Milan-based Hot Lab firm.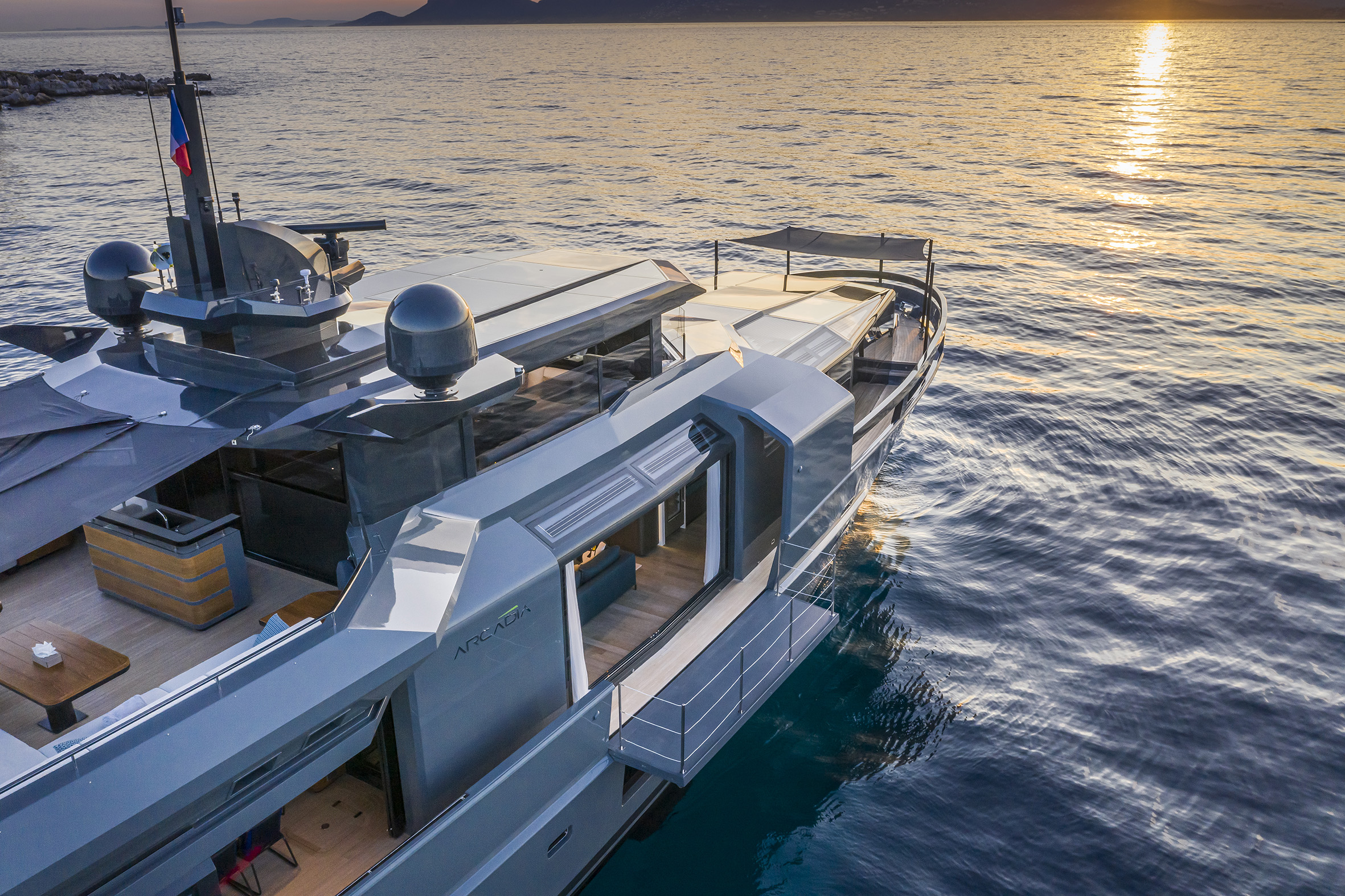 "Yet another achievement that underlines how, for
Arcadia Yachts
, furnishing does not simply mean placing a designer sofa or table on board – it means carefully choosing every detail to enhance the functionality and aesthetics of our yachts," says Francesco Ansalone, Arcadia Yachts Marketing & Communications manager.
"In the case of the Sea Coral 2, we enriched our experience working closely with the designer chosen by the owner and the professional support of Hot Lab design studio," he adds.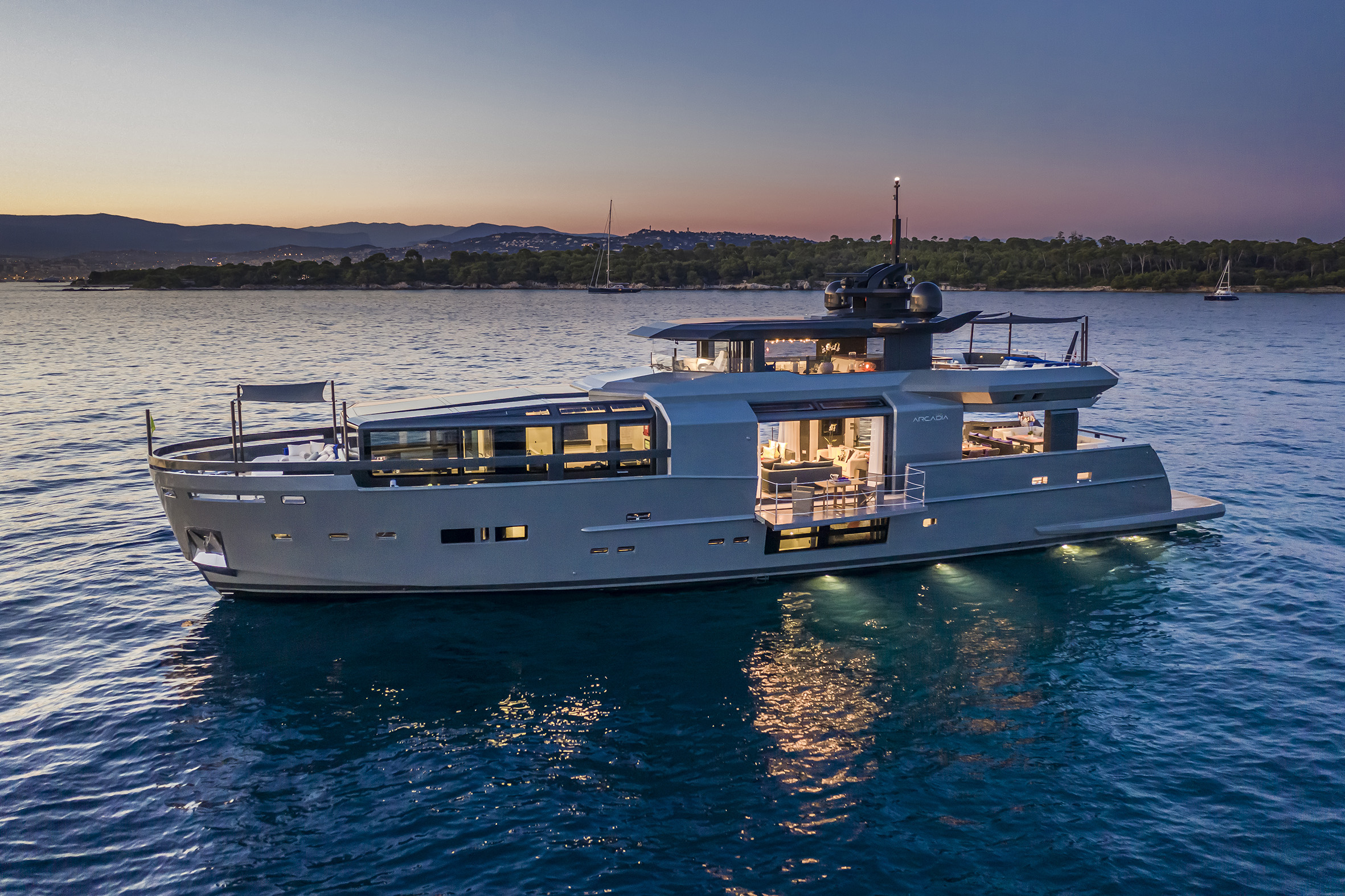 "Having carried out many prestigious projects in some of the most beautiful places in the world, such as Saint-Tropez, Paris, Formentera, Val d'Isère, Casa de Campo, etc. I had no doubts about accepting the task of working on board an Arcadia A105," says Alain Perrier, the owner's designer. "If there is one yacht that makes a difference, it is this one: low on the water, with a sleek profile and a modern design. The Arcadia A105 represents the art of experiencing relaxation, comfort and safety on board an exceptional yacht. That's why I wanted to preserve the spirit and concept of the shipyard, while adding the owner's personality through the decor."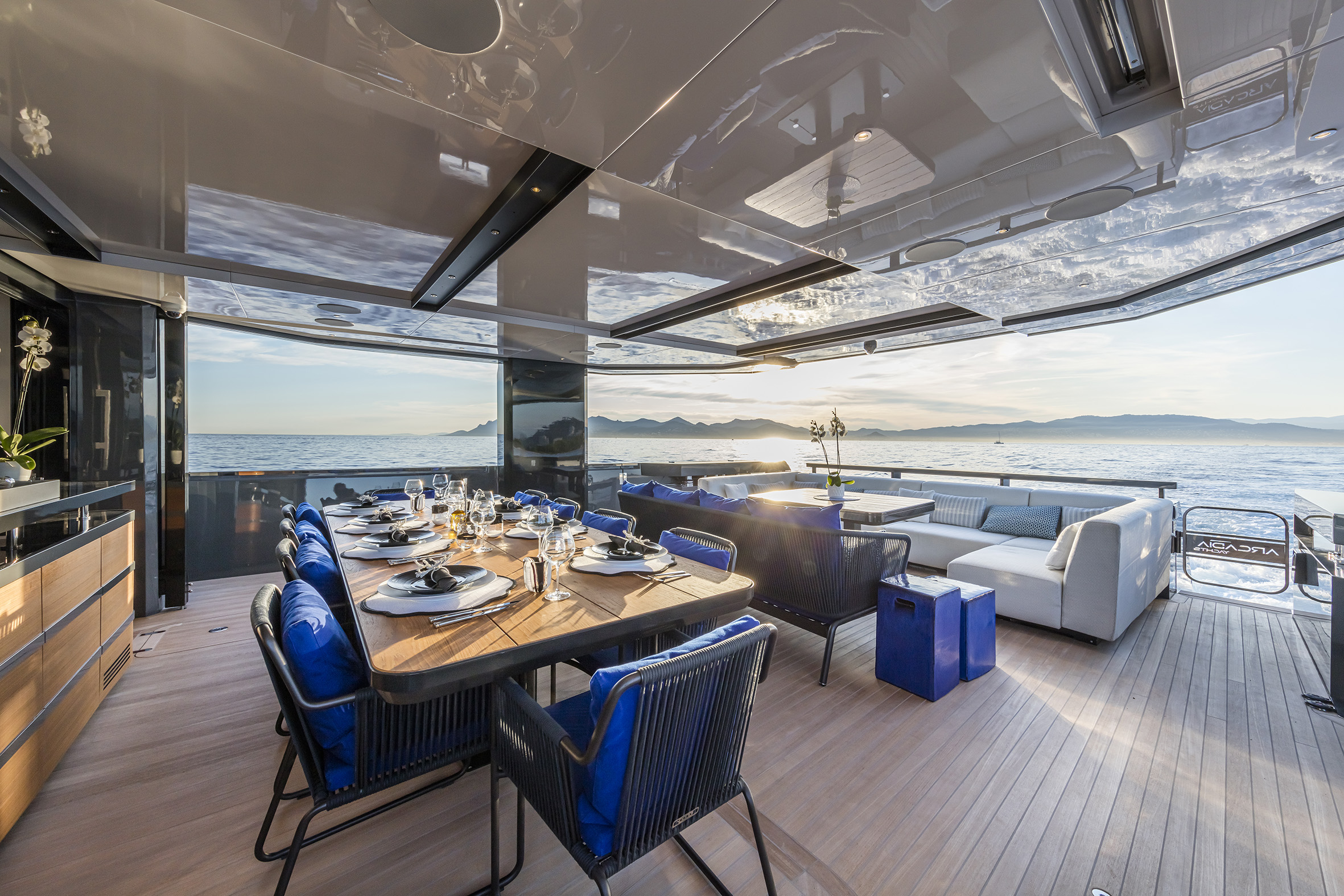 The open aft cockpit on the main deck is open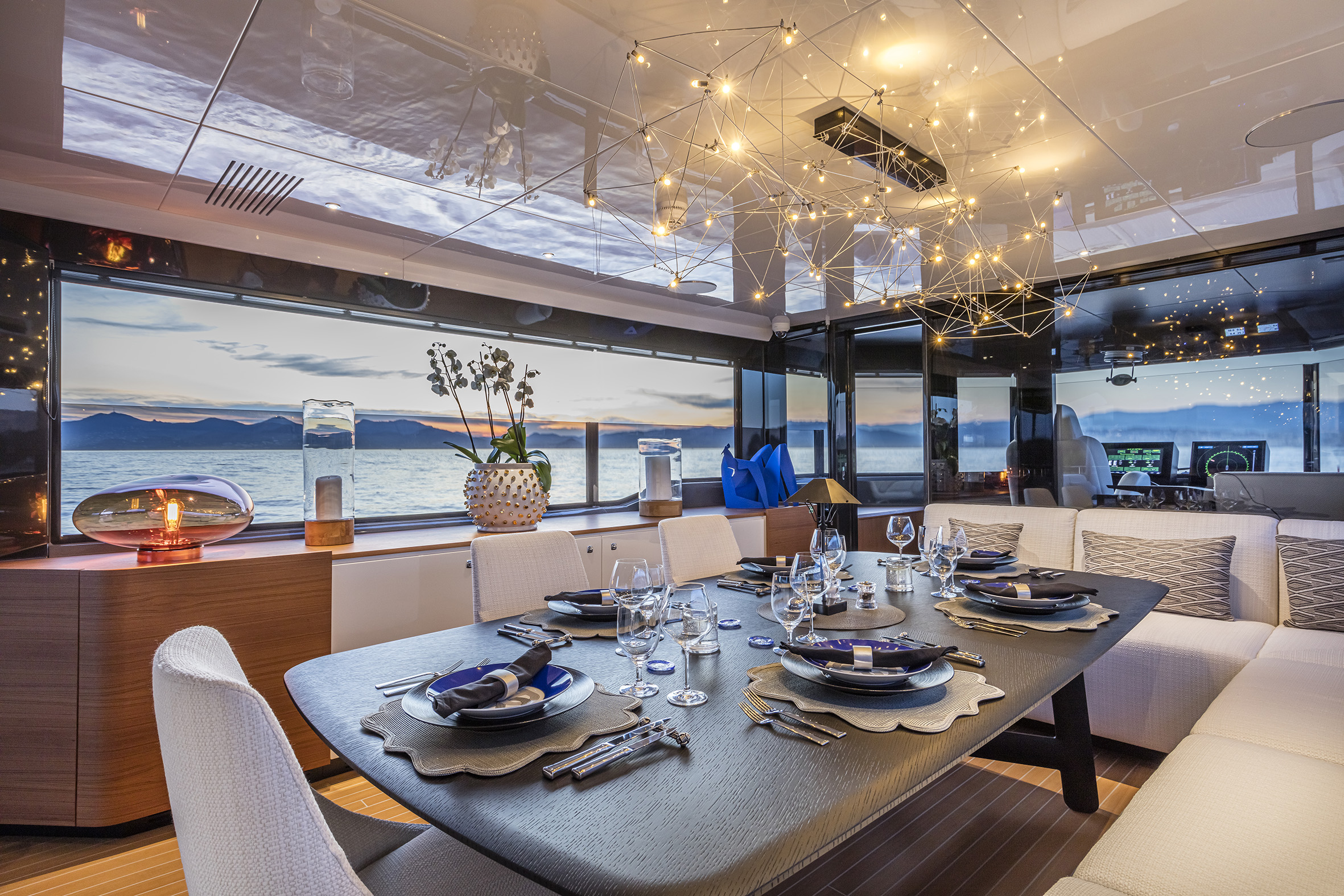 The living hall on the upper deck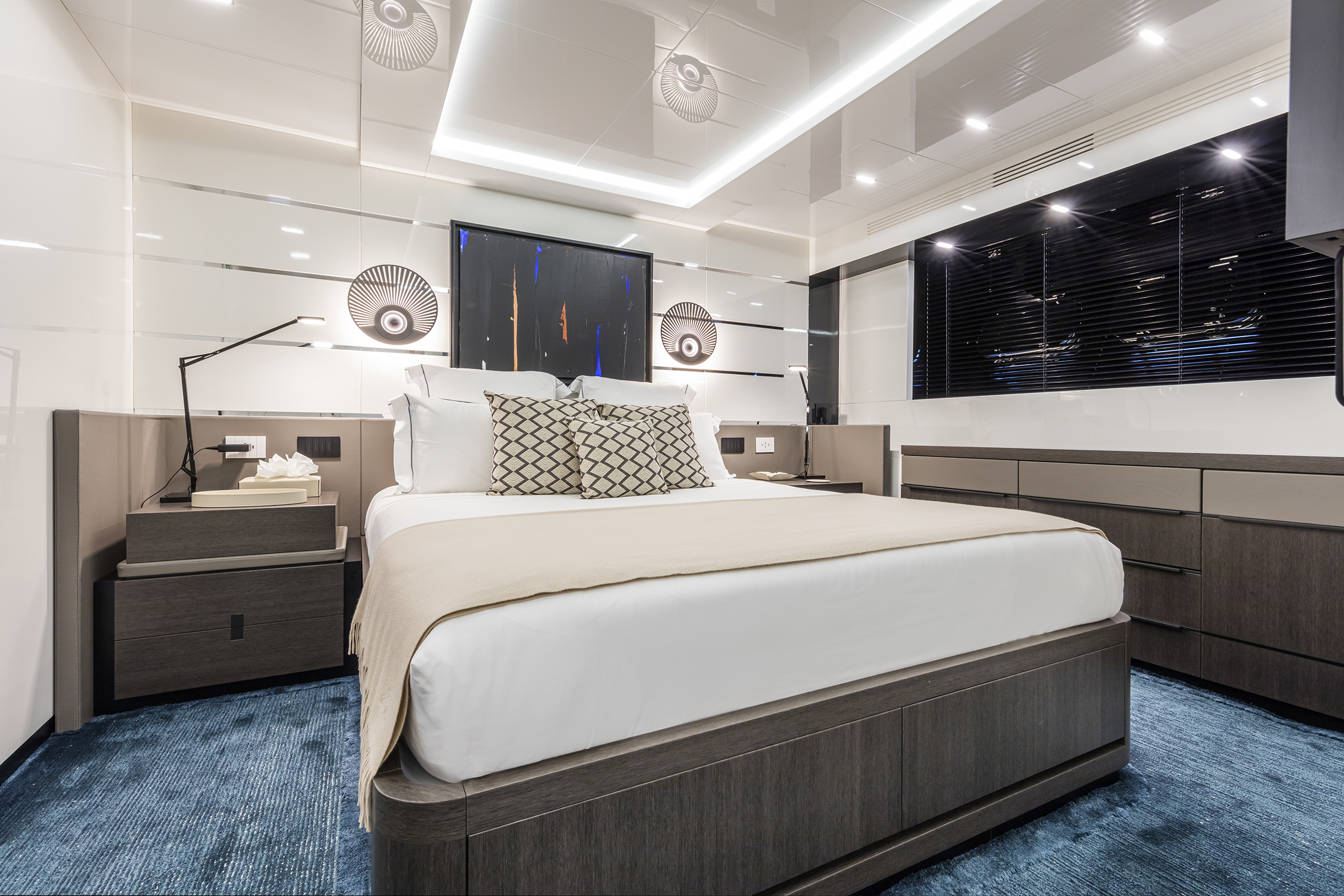 The inner bow area of the main deck could be used either as an office or as a second VIP cabin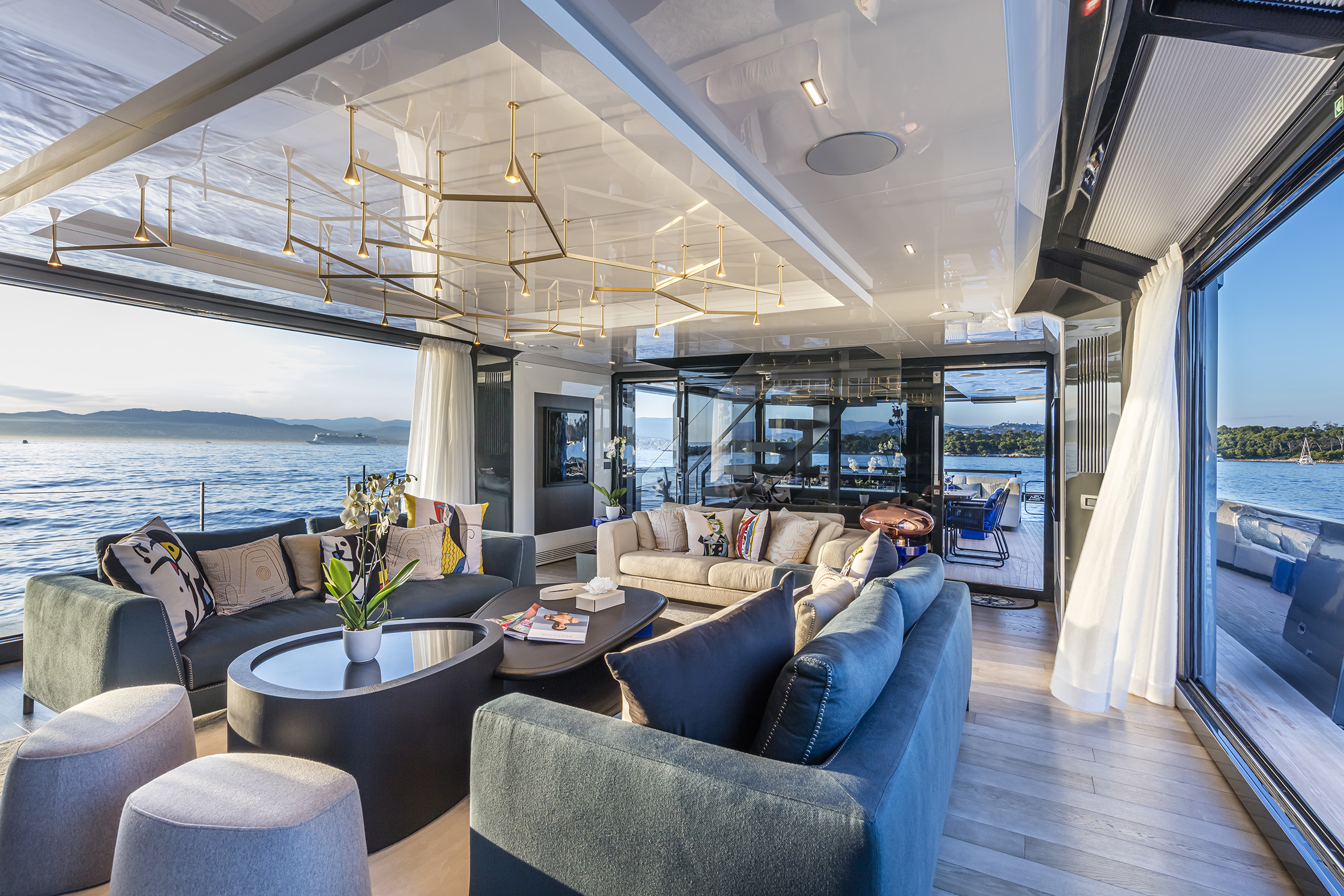 The large living area at the centre of the main deck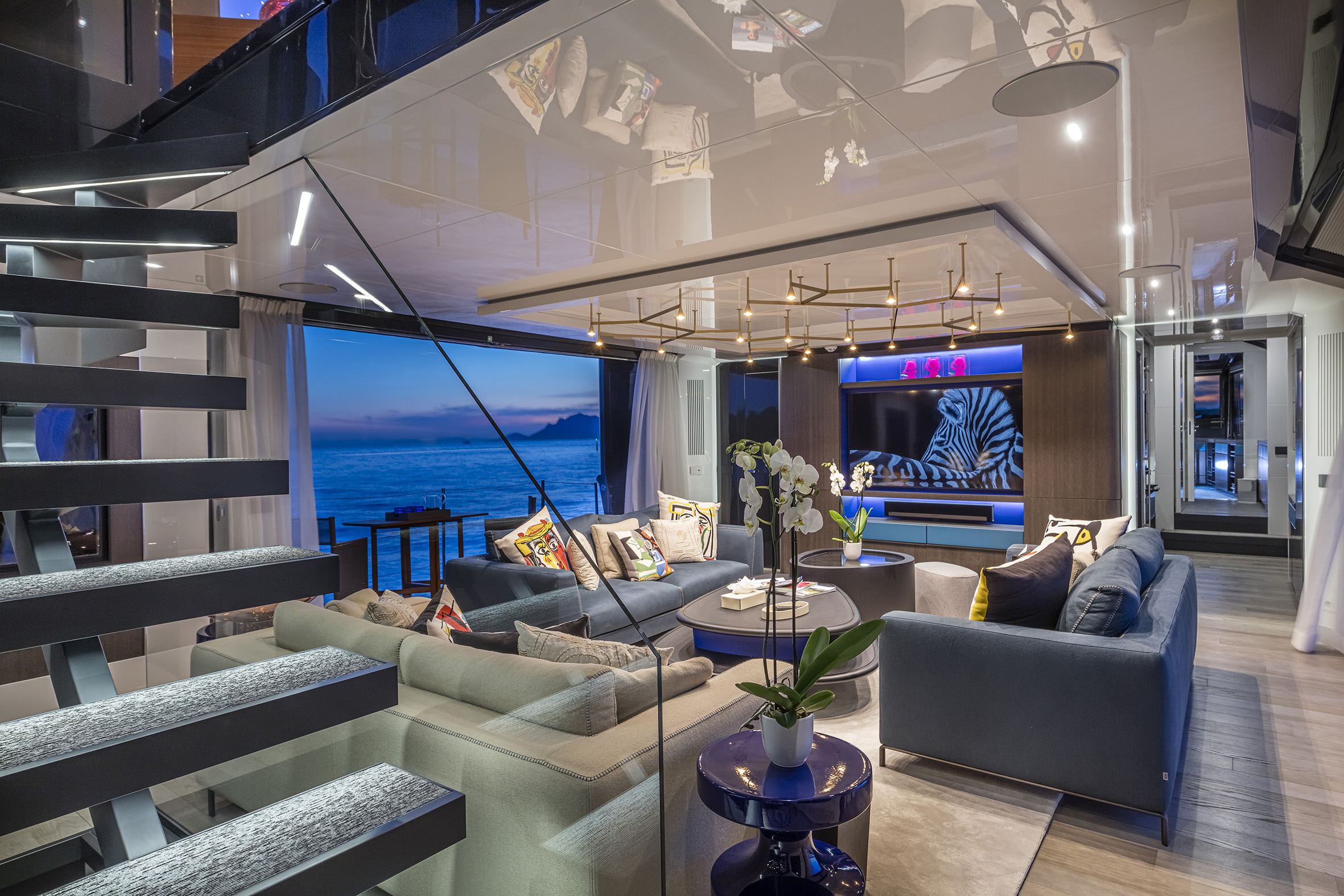 Another view of the main living area on the main deck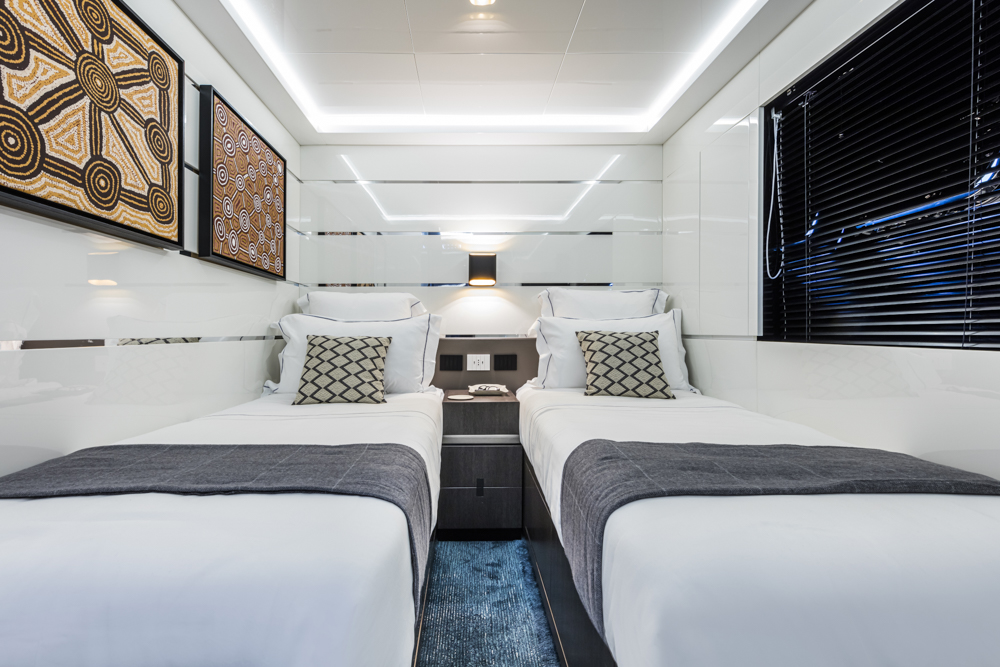 One of the twin guest cabins on the lower deck, where the entire sleeping area is located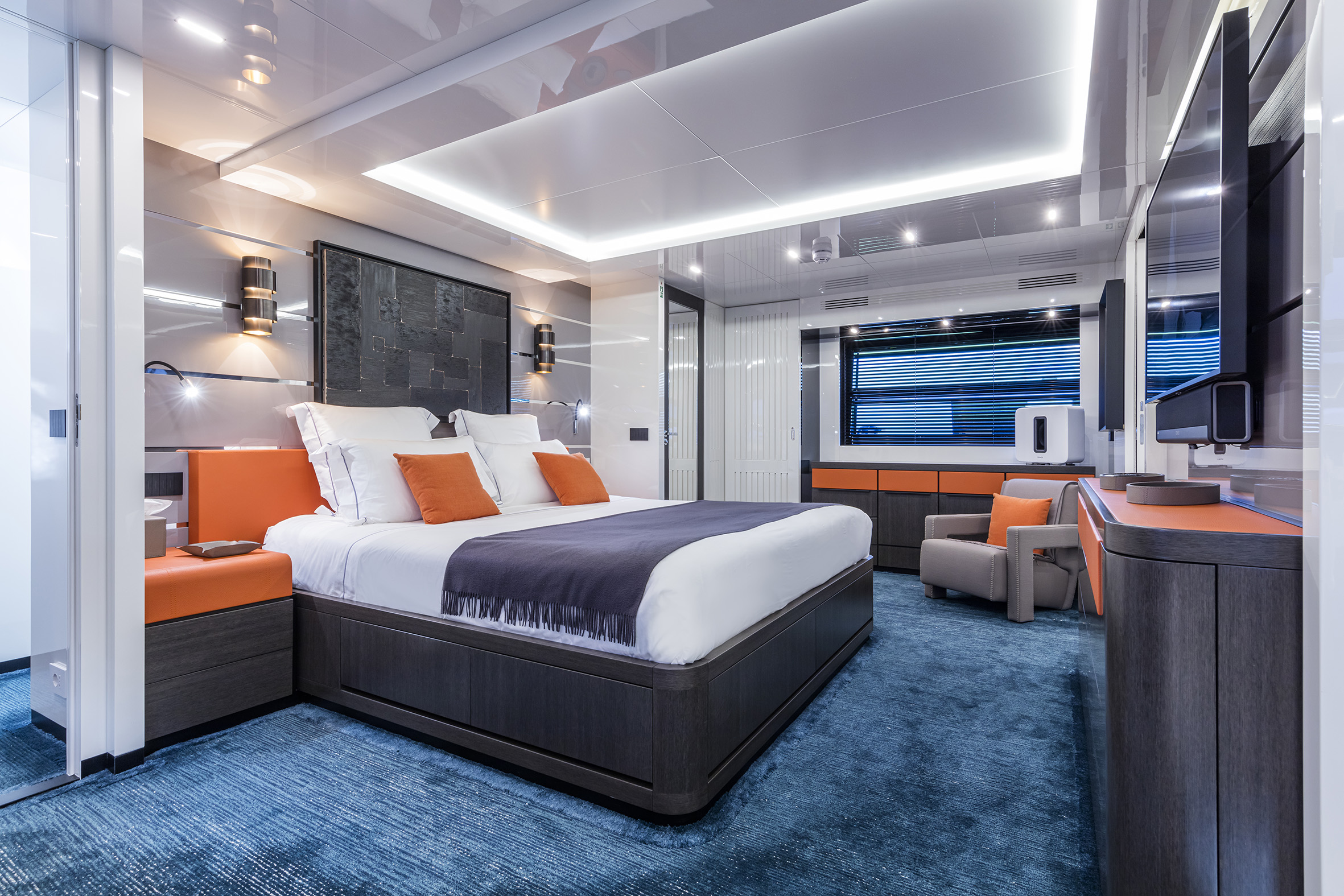 The full-beam owner's cabin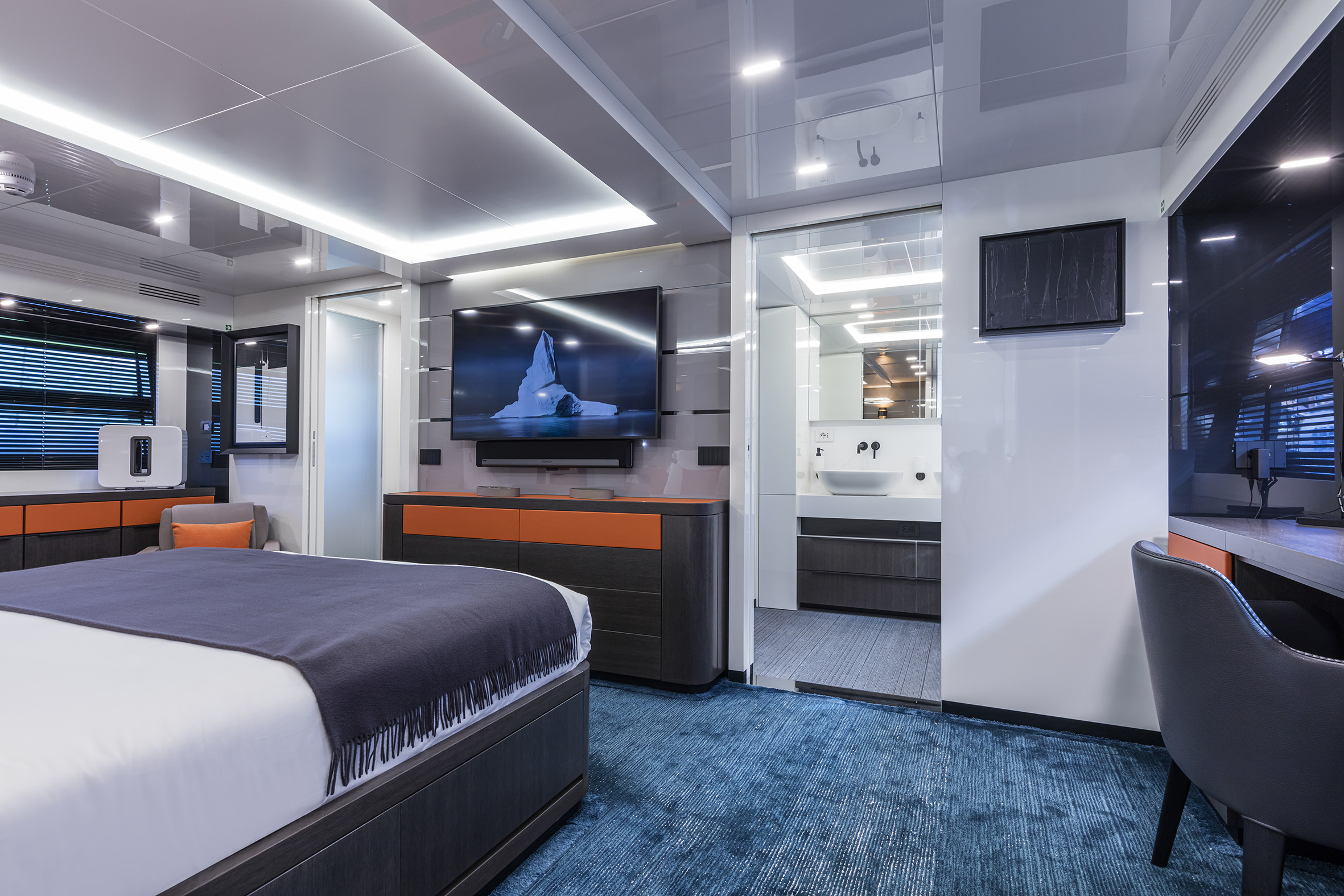 The reverse view of the owner's cabin highlights the TV's central position: the owner's access to the bathroom is to the right, while the door to the left leads to the walk-in wardrobe
After the first few months cruising in the Mediterranean Sea, Sea Coral 2 has crossed the ocean and is now in the Caribbean.
Arcadia Yachts
is based in Naples, Italy. Since 2008, they have been building semi-custom luxury composite yachts and have succeeded in perfectly integrating artisanal craftsmanship, modern technologies, attention to detail and to the surrounding environment. The Arcadia Yachts fleet has included two ranges since September 2016. The shipyard's first and most characterising range is the A range, which includes four models (
A85
, A85s,
A105
, and
A115
).
The Sherpa range has a new model, the 24m
Sherpa XL
, which was launched at the 2019 Cannes Yachting Festival.
Credits: Arcadia Yachts/Alberto Cocchi