Established in 1873,
Benetti
went a long way from building wooden boats to posting a €1 billion turnover in 2008. Stronger than ever, the Italian group is now on its way to expanding its reach into the 100-meter plus market, tightening its grasp on yachting. As the
Azimut-Benetti keeps expanding its grasp on the market
, Yacht Harbour looks at the 7 largest yachts ever built by Benetti.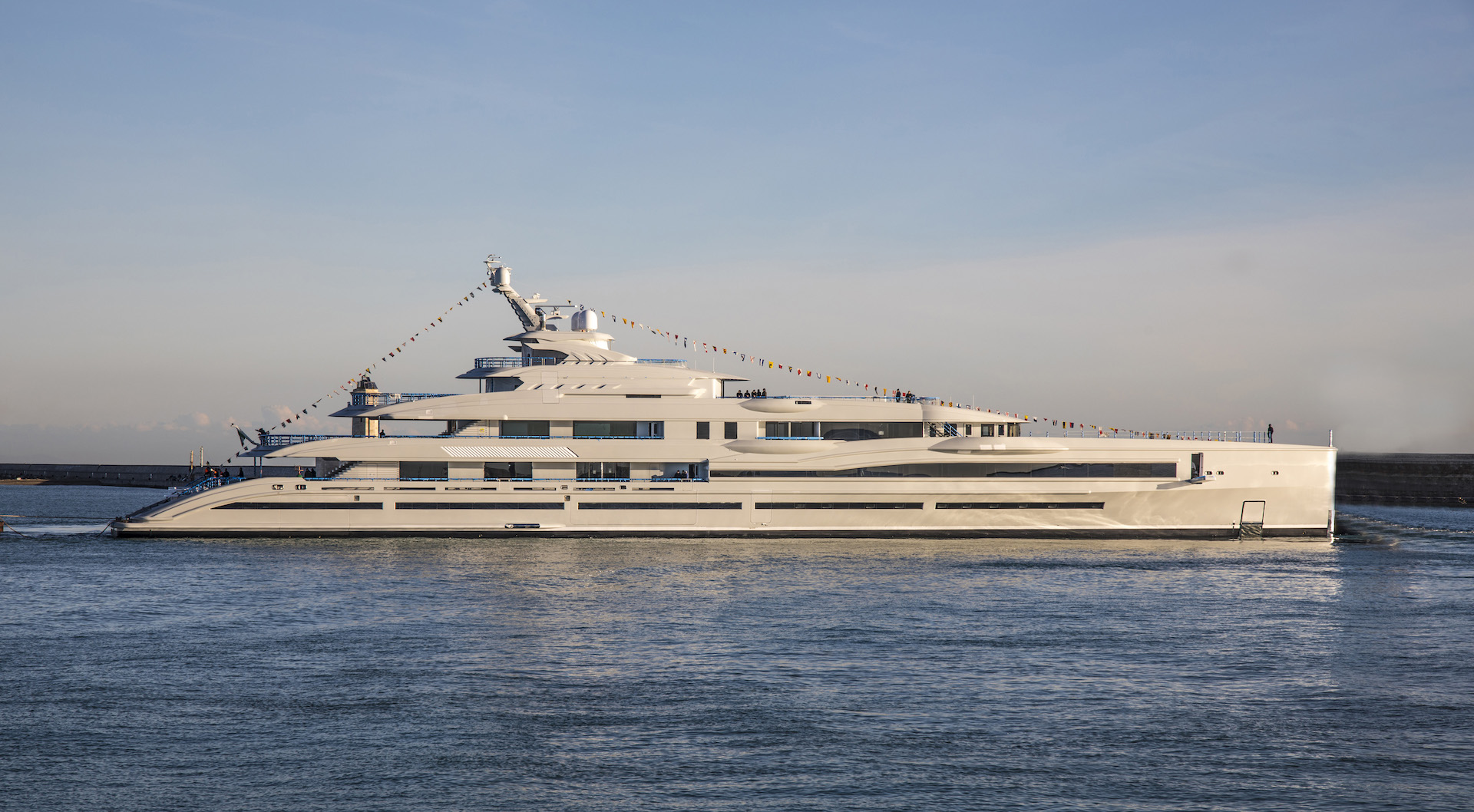 Length: 107m / 351ft
Delivery: 2019
The first yacht over 100 meters to have been launched by Benetti, FB277 was launched in December 2018 as the 40th largest yacht in the world.
With 3,800 GT of interior volume spread over 6 decks, the 107-meter yacht has a 15.2-meter beam.
Each of its six decks is crossed by a spiral staircase. Imperial Yachts, an agency most known for handling a large portfolio of Russian clients, were responsible for overseeing the build.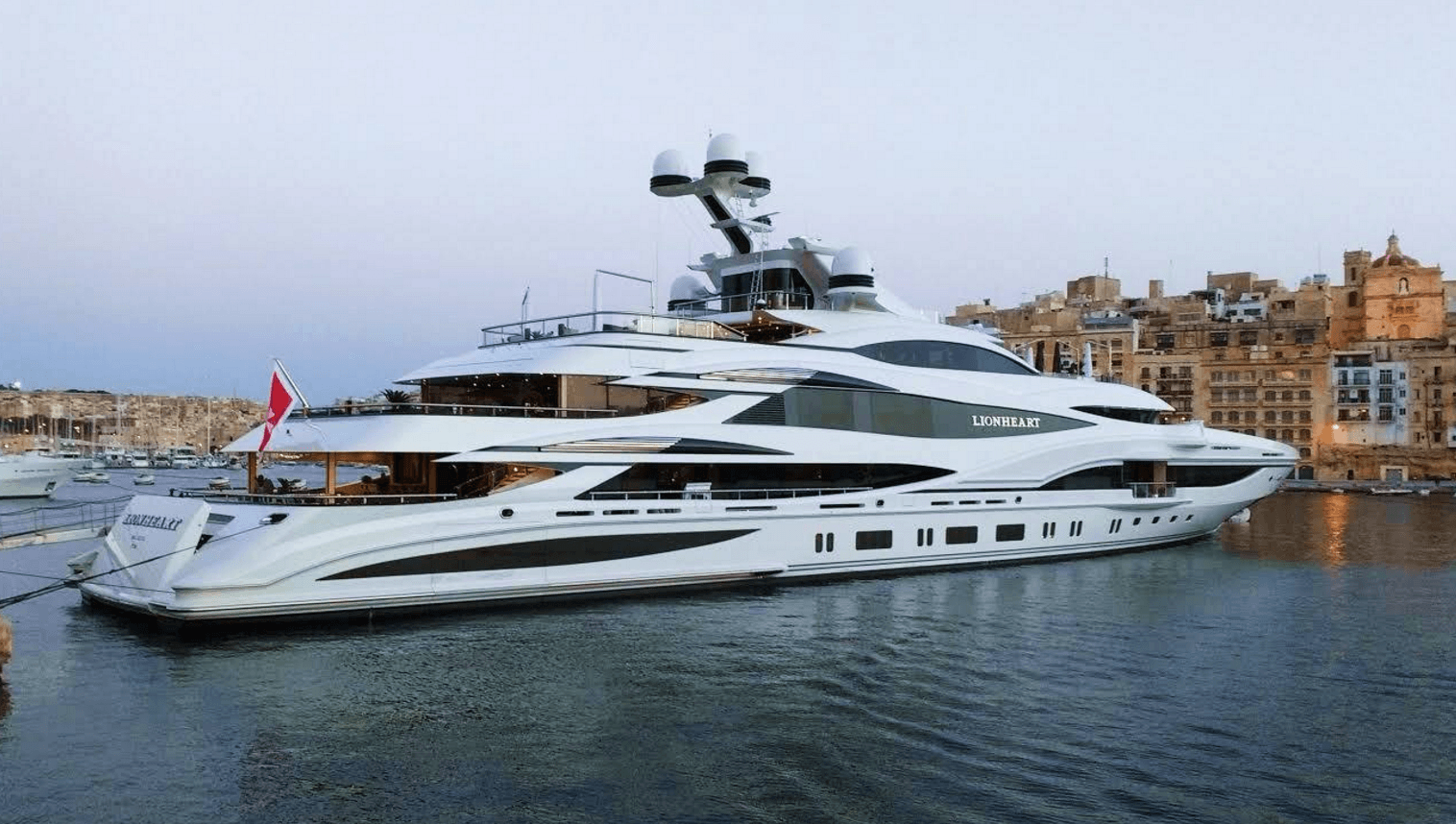 Length: 295.28 feet / 90 meters
This custom mega yacht was built at Livorno shipyard and delivered to her owner in 2016. The yacht provides a wide range of amenities including an outdoor bar and ample space for sunlounging and relaxing. Stefano Natucci collaborated with Benetti on the exterior design and Green & Mingarelli Design is responsible for the interior design. Lionheart has a sporty aggressive look, with a large beach club and side-opening doors for easy launching of the tenders.
It can accommodate up to 12 guests, the cabins with private balconies on the main deck are a notable addition and will offer great sea views. Also, guests can enjoy open Jacuzzi, spa and barbeque and helipad.
She has a gross tonnage of 2990 tonnes with a 14, 4 beam, and has cruising speed at 15 knots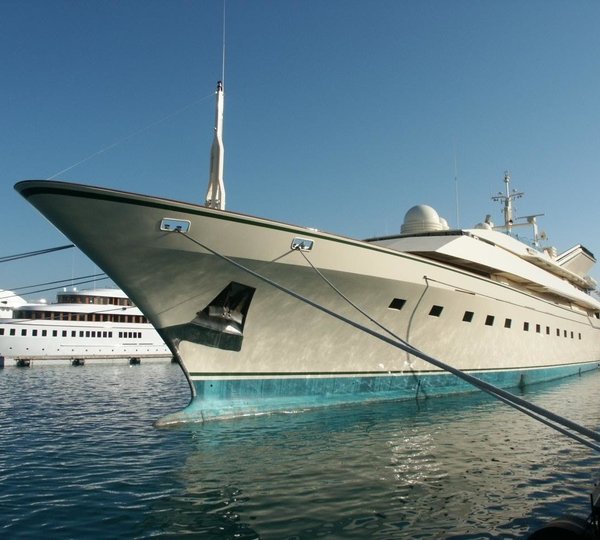 Length: 282 feet / 86 meters
In 1979 Benetti built the largest motor yacht in the world at that time - the 83 meter Nabila. Luigi Sturchio was responsible for the interior of the yacht, the production of the vessel started in 1977. Firstly she was built for Saudi Arabian arms dealer Adnan Khashoggi who named the superyacht after his daughter Nabila Khashoggi. Then in 1988 she was sold to Sultan of Brunei and after that to billionaire Donald Trump for $29 million. And Trump renamed her to Trump Princess. In 1991 with a financial problem Trump has sold it to the Saudi billionaire Prince Al-Waleed bin Talal, and he renamed her to Kingdom 5R.
This famous and luxury superyacht can accommodate 22 guests and 40 crew. She features a pool on the sun deck, a sauna and a cinema. There is an elevator, a disco and even a private hospital.
The yacht is powered by 2 Nohab Polar engines. Which bring her a cruising speed of 17 knots. And a top speed of 20 knots and has a range of 8,500 nm.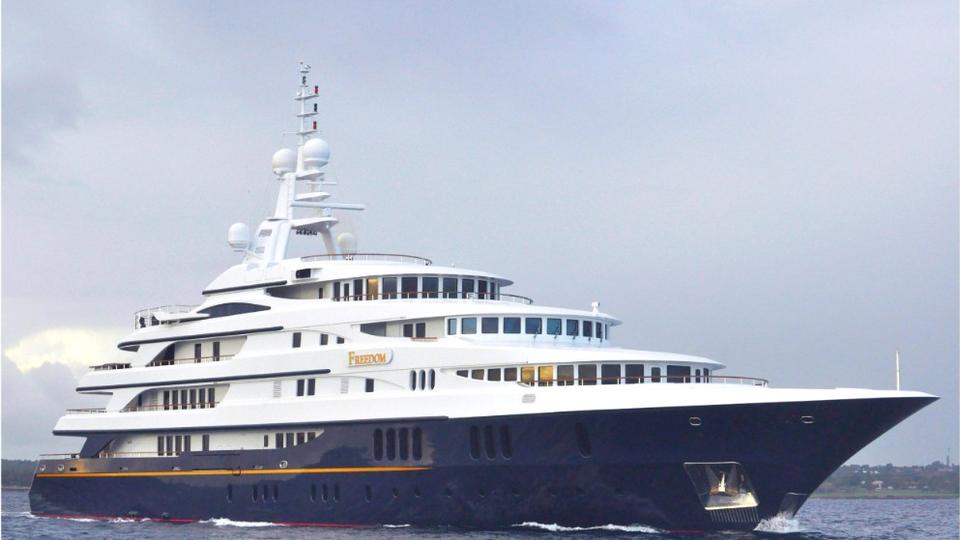 Length: 229.66 feet / 70 meters
This custom motor yacht 'Freedom' was built in 2000 for Norwegian businessman Kjell Inge Rokke and last refitted in 2016. Previously it was called "Reverie" and she was the second biggest vessel ever built by the yard. Her luxurious interior is designed by John Munford and her exterior styling is by Stefano Natucci.
She has a steel hull with an aluminium superstructure with a beam of 12.50m and a 3.14m draft and 7 decks made from Teak. She has six decks, all connected by a lift. Freedom offers accommodation for up to 12 guests in 8 suites. She is also capable of carrying up to 27 crew onboard to ensure a relaxed luxury yacht experience.
One deck is fully reserved for the owners. It offers a private sitting room and study and two family cabins in addition to the master suite.
The yacht has two dining rooms, one in baroque style, the other more casual.
Freedom has a cruising speed of 12.00 knots, max speed of 14.00 knots and a range of 6000.00 nm.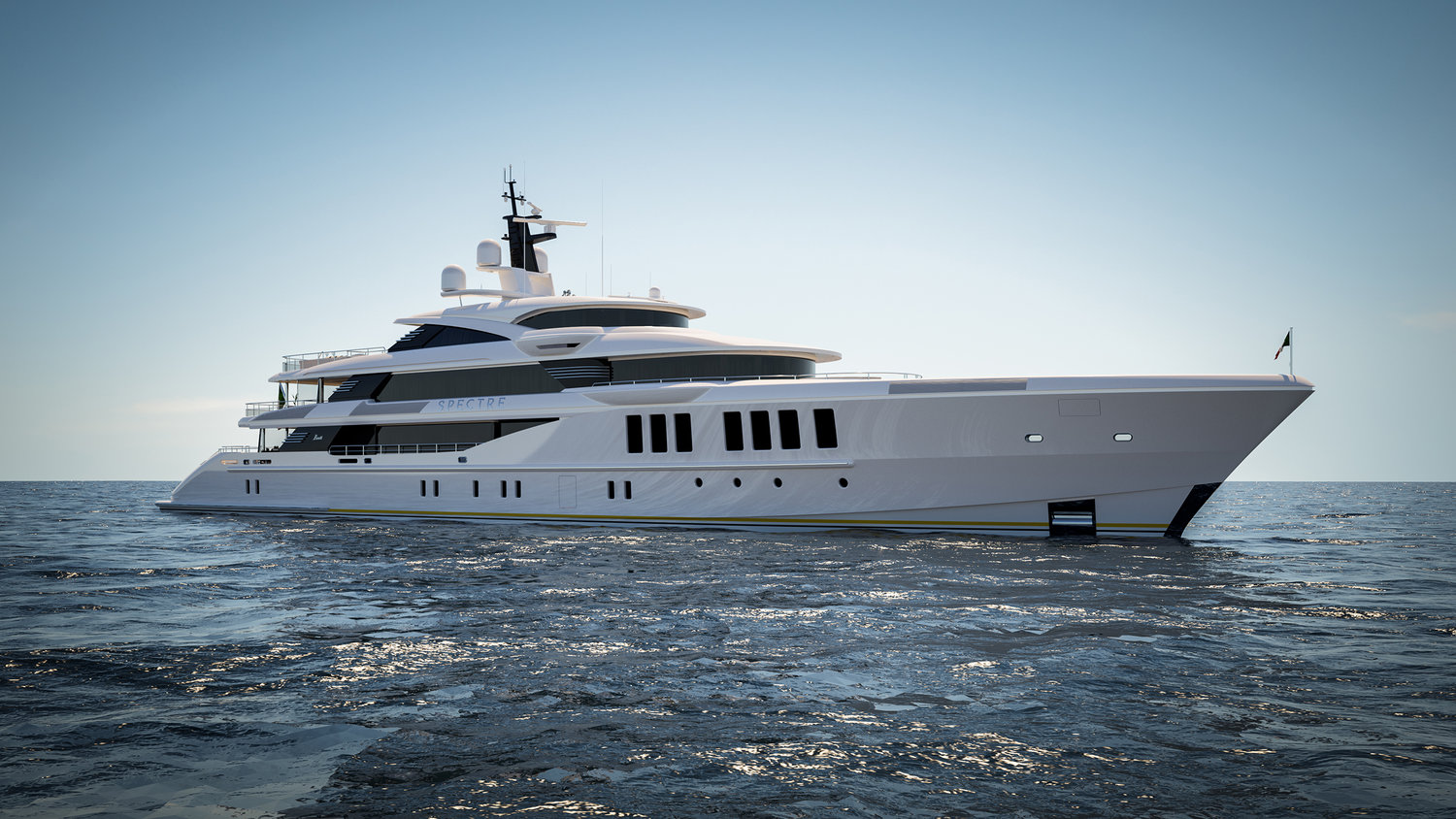 Length: 227.4 feet / 69-metre
"Spectre" is the third yacht launched by Benetti for talented New York businessman John Staluppi. This is a 69-meter full custom megayacht with a steel hull and an aluminium superstructure on five decks unveiled in 2018.
This original superyacht was developed around the latest marine technologies and combining different styles and philosophies of interior decoration. References to Art Nouveau in France mixed with modern details designed by Giorgio M. Cassetta.
The interiors created by Benetti's Interior Style Department, feel the mood of French hotels. The floor in the main lounge draws inspiration from the Art Nouveau style flooring in a Paris resort, with symmetrical forms and clean-cut geometrical patterns. Other references to French taste are the windows, a reminiscent of Paris' typical Art Nouveau shops.
The megayacht features with a swimming pool and touch-and-go helipad. Accommodating 12 guests in unforgettable comfort, the layout has two owner's cabins: one has a private terrace, a sun lounging area and a hydromassage tub; two VIP cabins on the main deck and two guest cabins on the lower deck.
She has cruising speed at 12 knots and a top speed of 21.2 knots with a range of 6,500 nautical miles.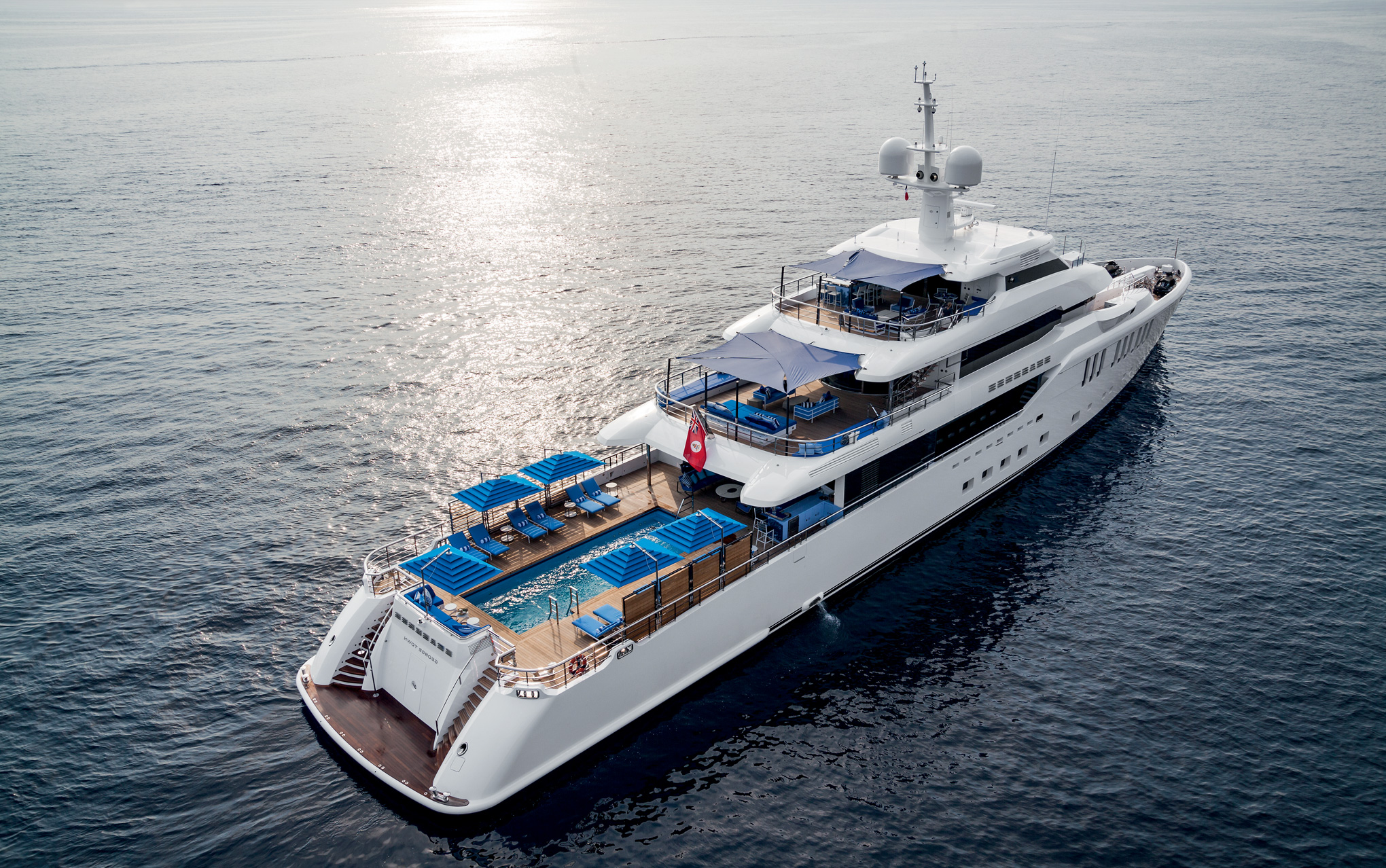 Length: 220 feet / 67 meters
Custom motor yacht 'Seasense' was built by Benetti in Italy at their Livorno shipyard, she was delivered to her owner in 2017. She can accommodate 12 guests in 6 cabins. And she has a crew of 14 in 9 cabins.
She is designed by Cor D. Rover and interior is designed by AREA, a design firm based in Los Angeles.
Seasense is a predominantly blue boat—royal blue —to reflect the sea and the sky. The silk carpets are various shades of blue. A dining table for 12 is on the main deck aft, and another alfresco dining area is on the upper deck aft. The gym has a prime location on the top deck with a panoramic view. The yacht's blue swimming pool is singularly striking. It is among the largest pools ever built on any yacht, nearly 10 meters by 4 meters.
The yacht is powered by 2 Caterpillar engines. Which bring her a top speed of 15.5 knots. Her cruise speed is 14 knots. Seasense has a range of 5,000nm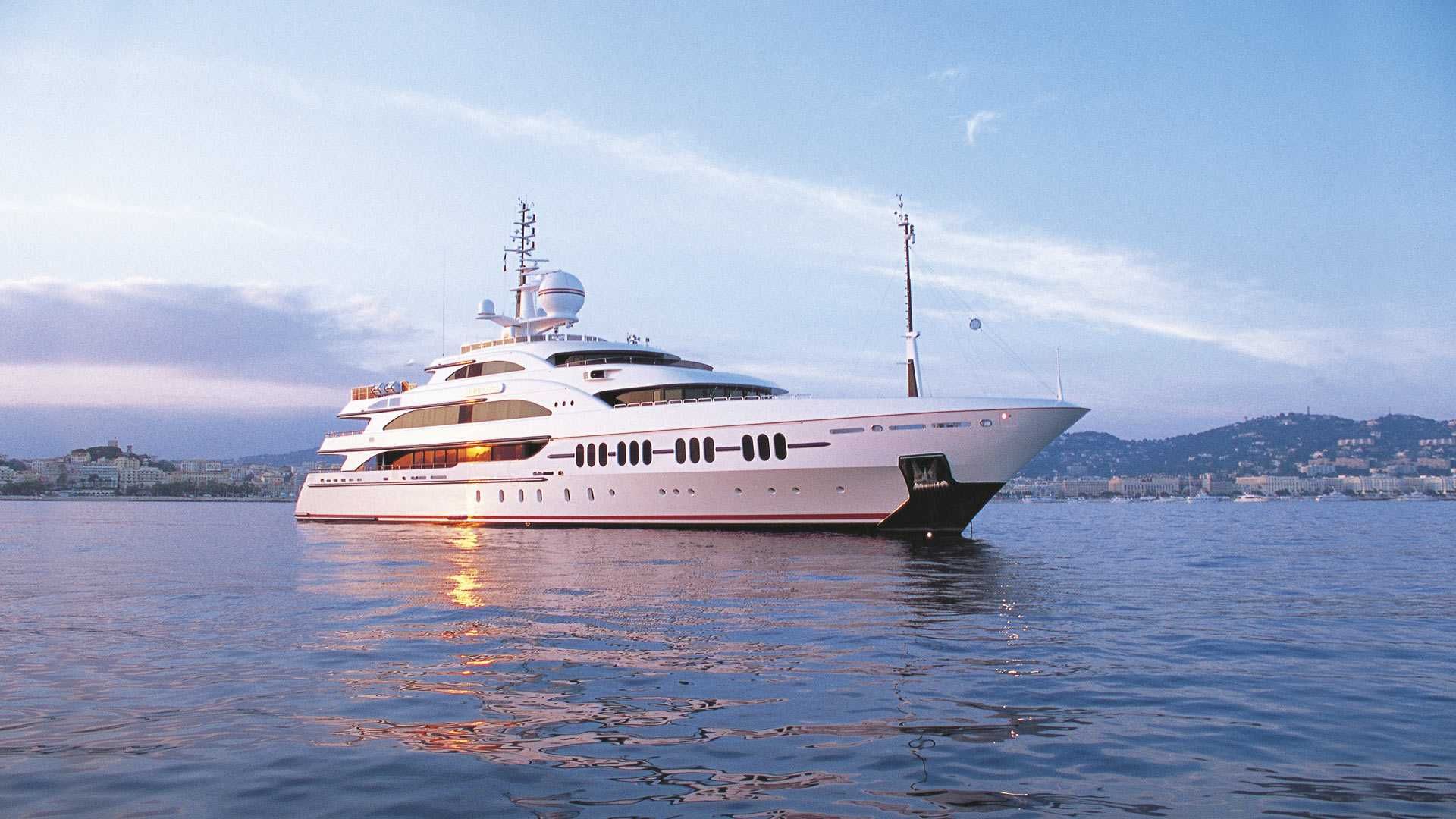 Length: 213,3 feet / 65 meters
This luxury Ambrosia III superyacht was launched in 2006. The Hong Kong businessman Ambrous Young is the owner of the 65 metre Ambrosia III – the fourth superyacht he's bought from the Azimut-Benetti group. The Ambrosias have taken Young all over the world, including twice across the Pacific. This yacht was the winner of the "Best Megayacht" at the Christofle Asia Boating Awards at Bangkok on 27 April 2007. Her naval architect which delivered the design details in respect of this ship was Fratelli Benetti and Stefano Natucci. The original interior made by Zuretti Interior Design.
She can accommodate 12 guests in 6 cabins and a crew of 20 in 10 cabins. She has such facilities as Jacuzzi (on deck), swimming pool, swimming platform, helipad, beach club and of course, tender garage. Her cruising speed is 12 knots. She is normally based in Asia.