Few events have ever affected yachting as much as the sinking of the 60 meter Yogi. The largest yacht to ever sink, its wreck strongly hit the Turkish shipbuilding sector and made owners take a hard look at their insurances and dangers, even though no one was hurt. Despite the accident, Yogi was no less of an exceptional yacht.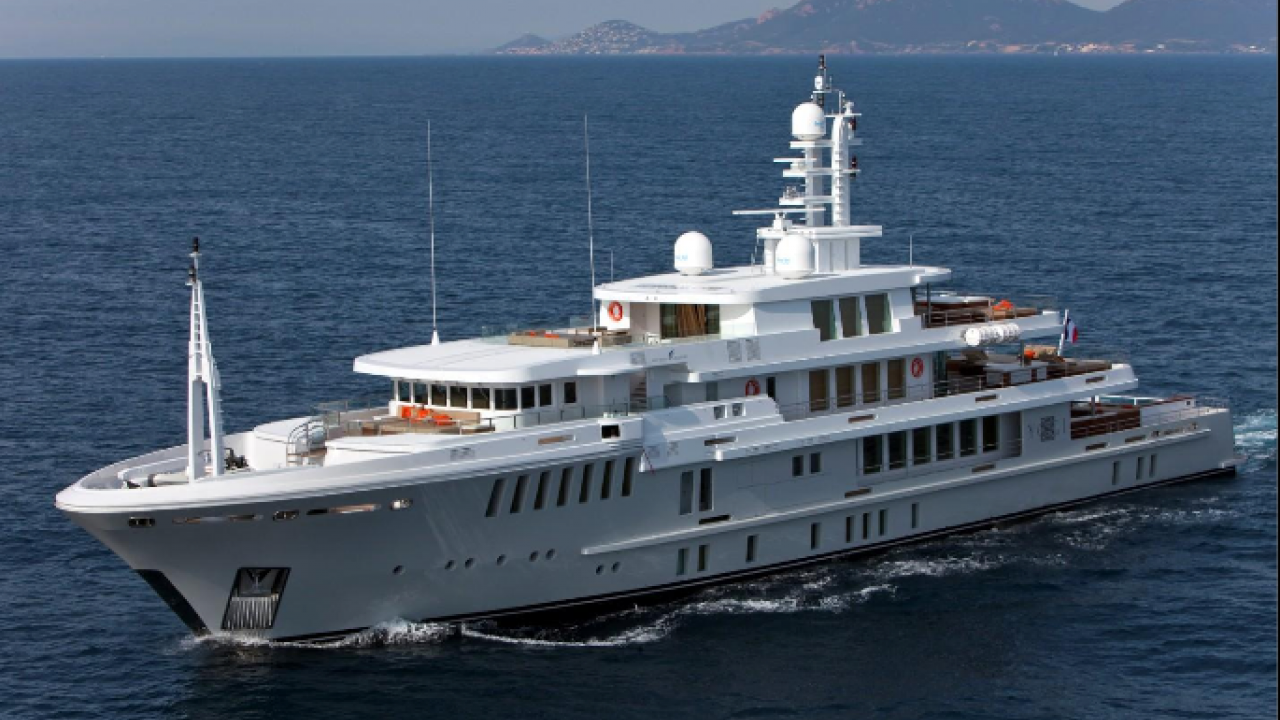 Yogi was the largest yacht ever built by up and coming Turkish shipyard, Proteksan Turquoise at the time of her delivery in 2011. Reminiscent of an explorer style yacht through her design by Jean Guy Verges, Yogi featured oversized portholes in her hull that brought in tons of flight into the yacht's cabins.
Built for Stephane Courbit, a French media and TV millionaire valued at €450 million, Yogi was built to be operated as a charter yacht part of its hotel collection. Maximizing space, the yacht had many amenities for her size including a swimming pool, beach club, wellness center and media room.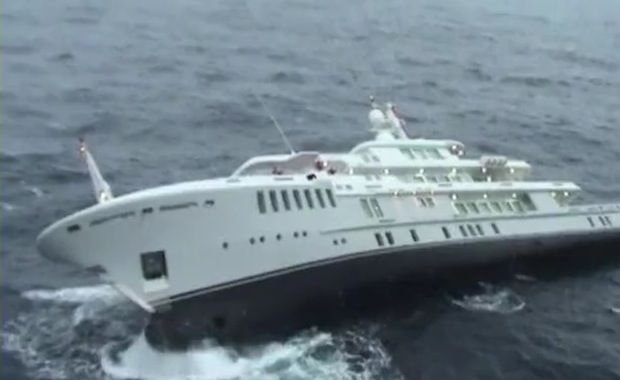 Yet, on February 17th 2012, just as the yacht was days out of leaving the yard where it was undergoing warrantied maintenance work, it sank in the Aegean sea. The weather was particularly difficult during that day and yet it seems to be an engine failure that, tied to a number of circumstantial events, led to the 60-meter yacht sinking to the bottom of the Mediterranean.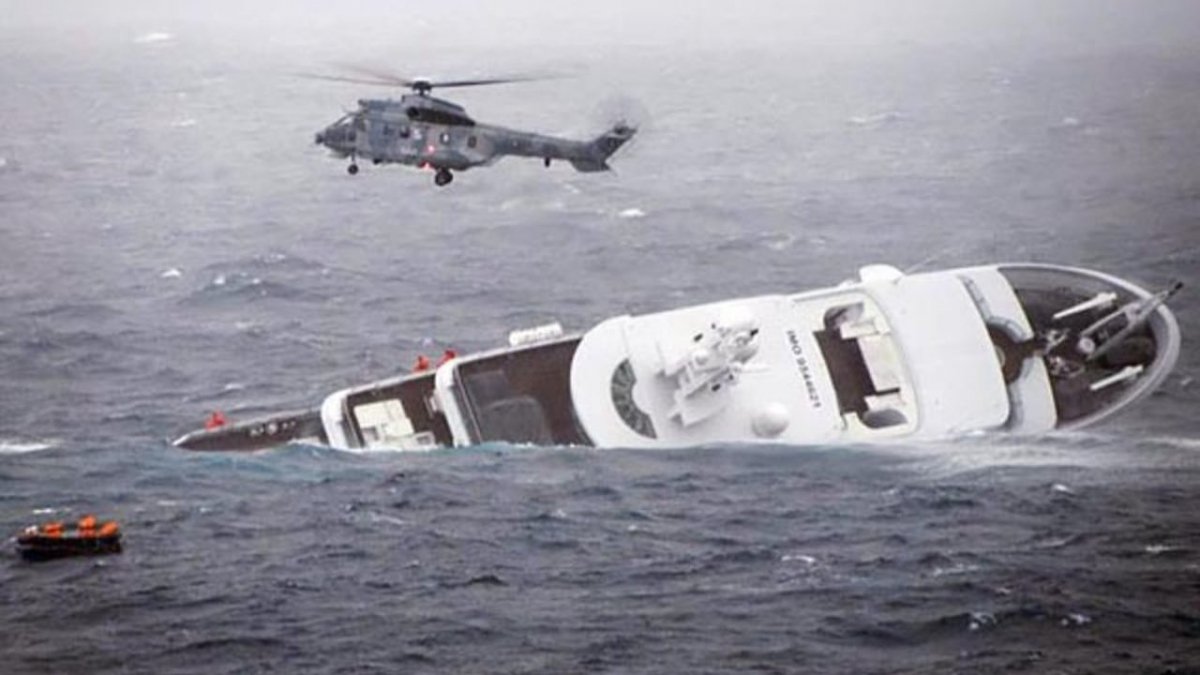 The report did, however, clear Proteksan in the quality of its build, focusing on what was a mixture of human oversight and extreme conditions. A Turkish investigations arrived at similar conclusions. Manned by a skeleton crew of 8 during this voyage, it took an hour to evacuate by helicopter the yacht's crew as seas at their peek featured waves of up to 7 meters.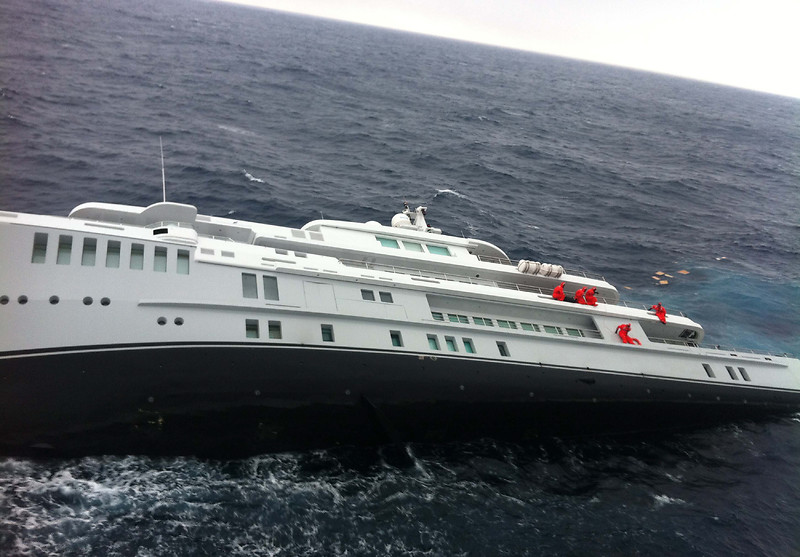 Virtually new, the sinking of the 60-meter Yogi send shockwaves throughout the yachting space. In addition to engine issues that were believed to have triggered the chain of events that led to Yogi sinking, misuse of watertight doors may have been an issue according to the report. A fact worth noting is that the yacht took over five hours to sink into the Aegean Sea.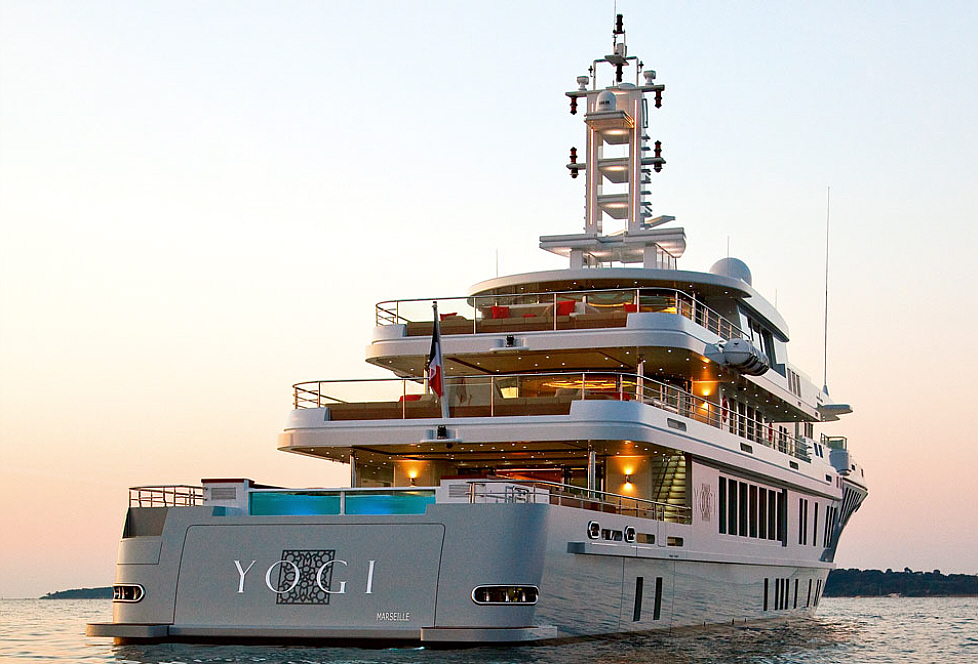 The largest yacht to have ever cruised with the French flag, Yogi was part of Courbit's Lov Collection, a holding company that includes the Les Airelles palace in Courchevel as well as the Pan Dei hotel in St Tropez. Built with charter in mind to its existing and new clientele, the yacht commanded prices of up to €378,000 per week and featured 800 square meter of interior space in a particularly luxurious interior.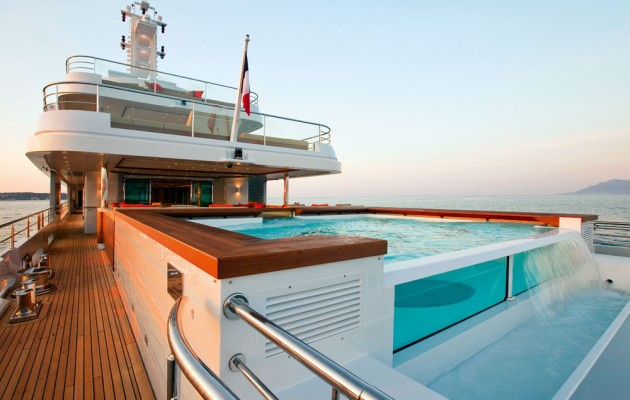 A key element in Yogi's design was her large pool with overflow that sat aft of the yacht's main deck, directly on top of its beach club. In the middle of the pool was a glass porthole that flooded the area underneath with light. All around the pool were lounging pads for Yogi's guest to take in the sun when the yacht was anchored off in a bay.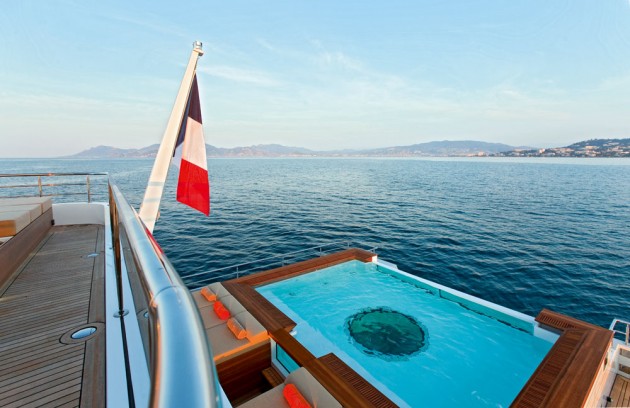 To complement the swimming pool aft of the main deck, a Jacuzzi was also placed aft of the sundeck, for guests that wanted to enjoy the sun in a hot tub. Also surrounded by sunpads, these feature a common beige design throughout the yacht with colored pillows. Same can be said for the customizable lounging area aft of the upper deck.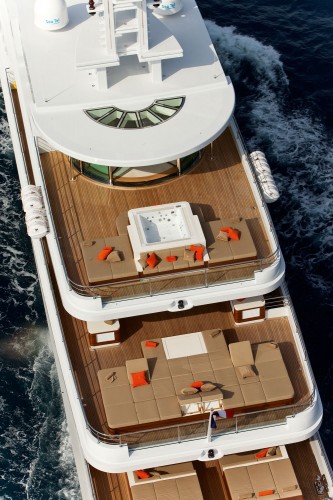 On the inside, Yogi was reminiscent of Courbit's luxurious hotels. Featuring a beige and creme tone throughout the yacht, the 60-meter was fitted with floor to ceiling windows that visually increased the size of its 800 square meters of interior space. Its main salon was structured into a lounging area and a TV sector with a wide screen built into the wall.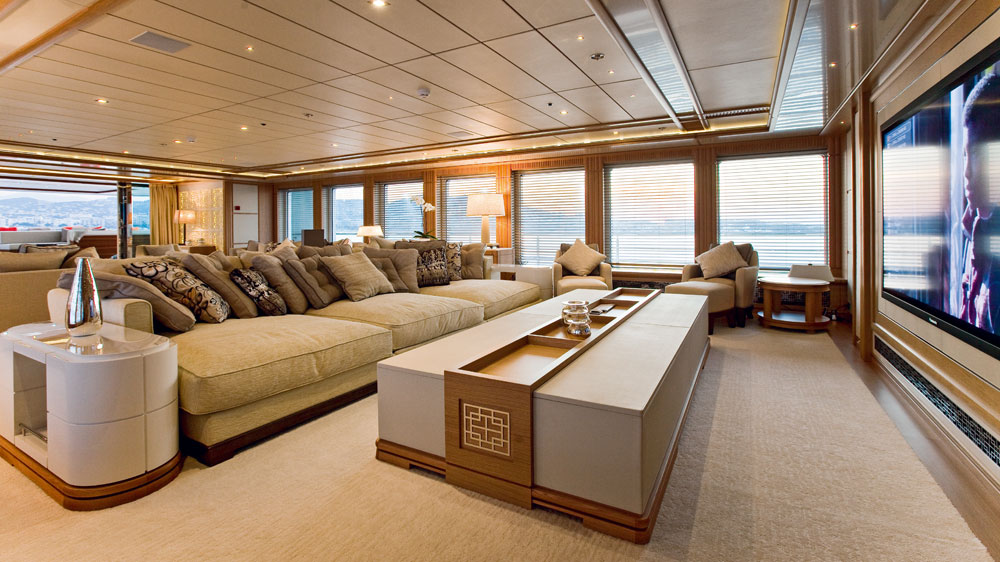 Stretching across the full beam of the yacht, Yogi's master bedroom was no less spectacular with both lots of light and space. A king sized bed throned in the middle of the suite with access through a central corridor to a dressing room and his and hers bathrooms.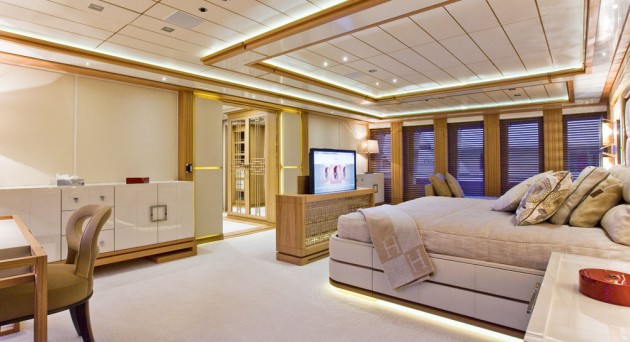 The yacht's guest accommodation didn't also pale in comparison with the owner's stateroom. Finished in the same style, the double and twin guest cabins could be connected or separated through double sliding doors. In total, Yogi could accommodate a total of 12 guests across 6 cabins.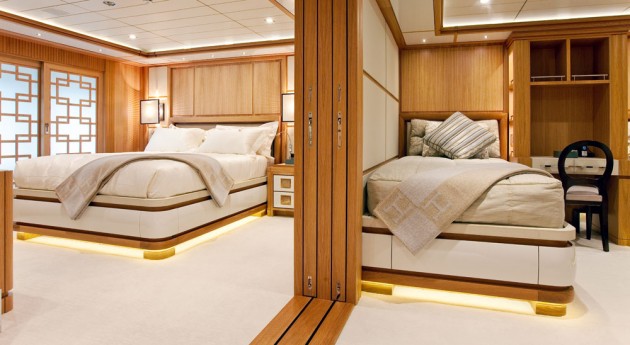 Tall windows could be found throughout the yacht and were a real differentiating factor from competition on the market for Yogi. 'The idea was to have a yacht that could be chartered and run just like a resort.' detailed its designer, Jean Guy Verges in a later interview. 'She has been designed to the specific request of her owner. I think this jewel offered more than you would expect of a yacht her size.'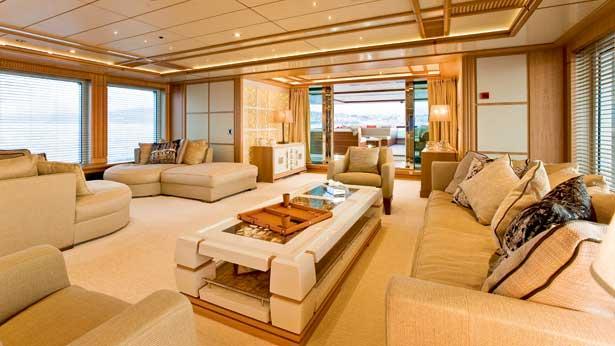 Another interesting amenity of Yogi was her observational lounge up on the sun deck. Finished throughout in glass, the area boasted a 180 degree view into the yacht's surroundings through a climate controlled environment. Equipped with custom furniture from the likes of Hermes, this media lounge separated the sun deck into a Jacuzzi and a raised dinning area.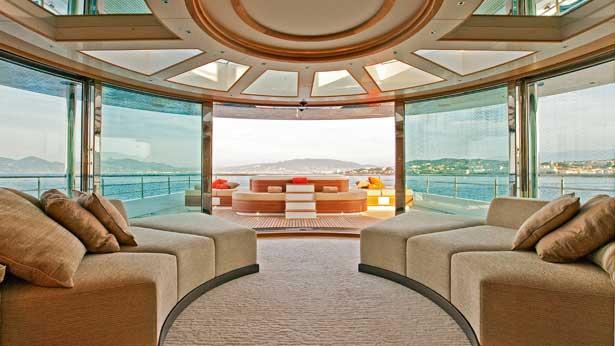 Down on the upper deck, which also featured a covered dinning room, guests would find an extensive lounging pad with tiles that could be raised or flattened to create lounging chairs or sun beds. Connected to iPods and iPhones, which in 2011 was still rare, Yogi featured an advanced system for her time with TVs that slid out even in front of lounging pads.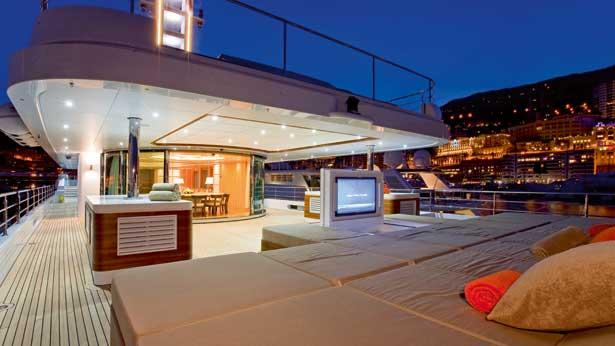 Viewed by many as a step forward for the Turkish yacht building sector and as an endorsement of their quality, when Yogi sank, the whole country took a hit. By 2011, yacht owners and charters had started outgrowing the stigma of building in Turkey and the market was picking up for local builders. In fact Yogi was the largest yacht ever built by Proteksan.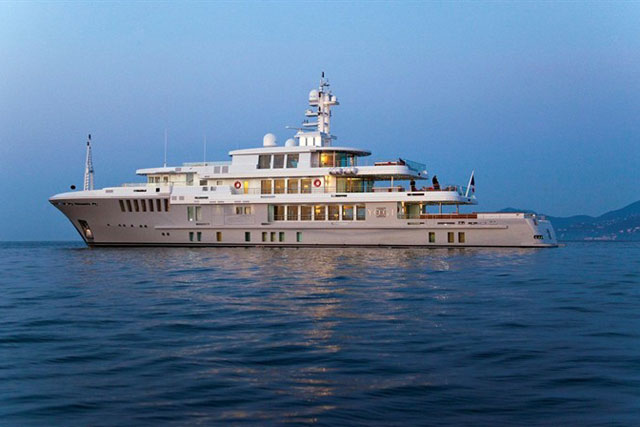 Yogi's delivery was followed weeks after by their newest flagship, a 70.5-meter reminiscent of a Dutch-build quality, Talisman C. Shortly after it followed the 72-meter Vicky and it looked like Turkey would emerge as a yacht building destination. This all ended when Yogi sank in February 2012 and owners' stigma towards Turkey developed once again.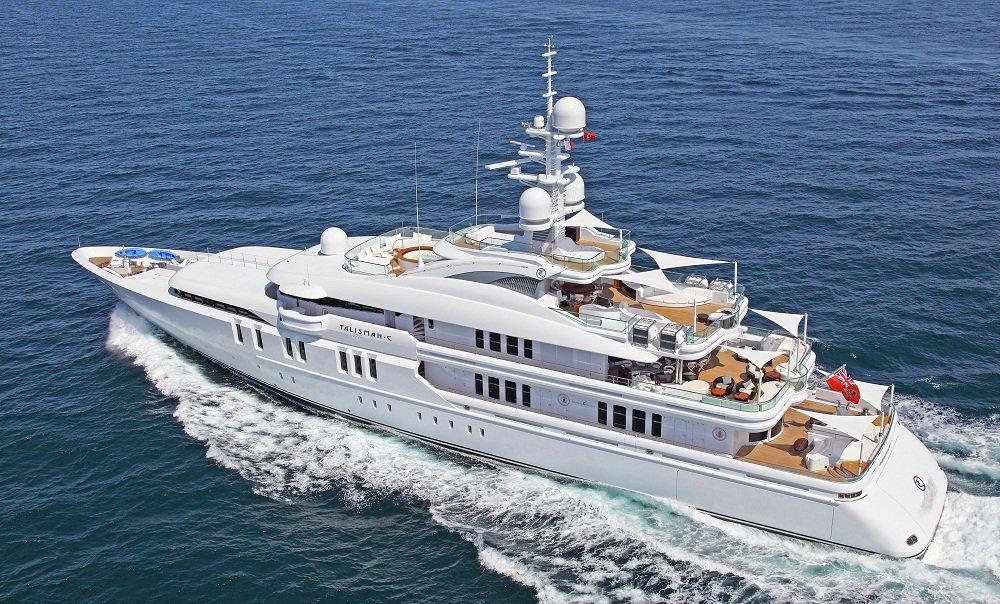 Although some Turkish shipyards continued to prosper, many faded down their ambitions in a global recession. This ultimately culminated with the acquisition of Proteksan Turquoise by Dutch-based Oceanco. Backed by billionaire investor Mohammed Al Barwani, the Dutch superyacht builder since set out on a mission to make the yard competitive and got an order for a 77-meter yacht now under build.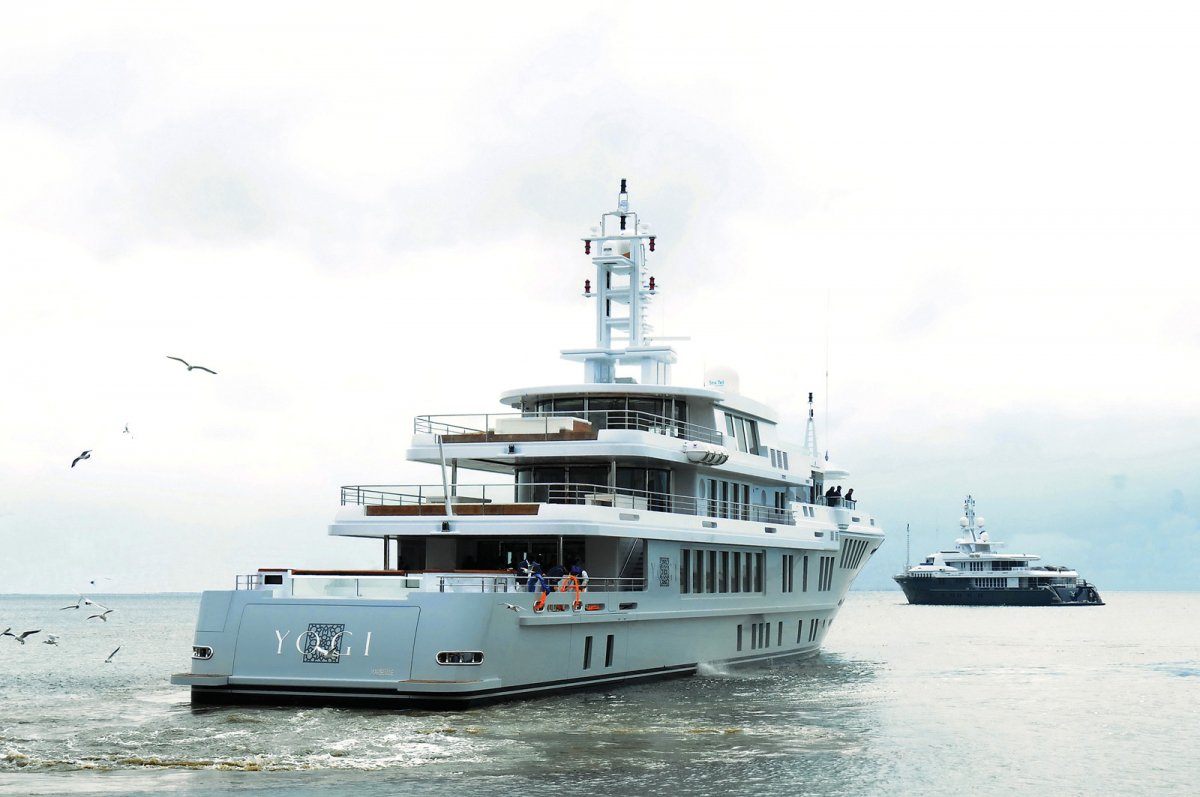 Having initially started his career in television in the 1990s, Stephane Courbit where he built a reputation, eventually starting his own production company behind hits such as Miss France. Eventually acquired by Dutch holding Endemol, Courbit exited from the company in 2001.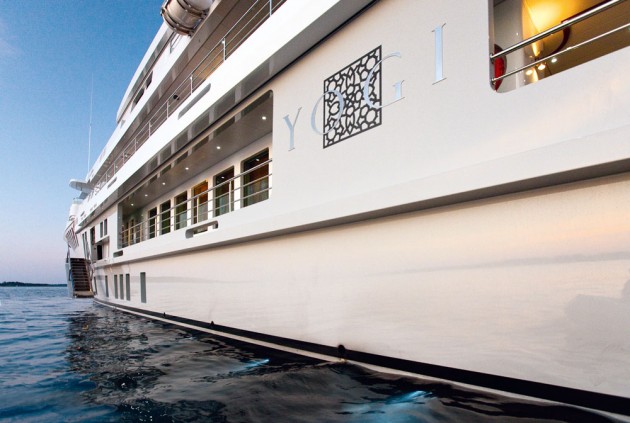 His LOV Group currently includes companies in the audiovisual space with several production companies behind some of France's most popular game shows. Other investments include several betting sites, which he started in acquiring in 2007. One of his fastest growing divisions has now becomes the Airelles collection of hotels.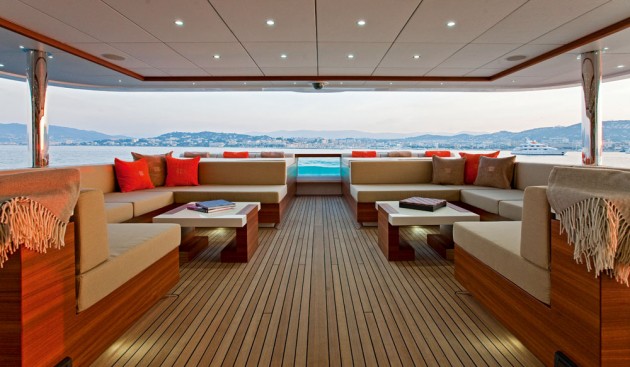 After investing nearly $200 million into the purchase and renovation of the five star Courchevel palace, Les Airelles, Courbit acquired the Pan Dei Palace in St Tropez. His hotel portfolio then grew with the Bastide de Gordes in 2014. Two more Airelles hotels are set to open in the next two years, one in Versailles and one in Val d'Isiere.