Extra Yachts has sold the fourth unit of the
Extra X96 Triplex
model to a European customer. The Buyer of hull #4 was introduced by Igor Cherentaev at Aberton Yachts. The model's impressive volumes are a standout feature of the project, successfully combining the yacht's modern and eclectic style with a strong emphasis on livability and functionality. The 28.6-meter LOA combined with the 7.6-meter beam provide an optimal distribution of her 238 GT over four decks. Designed without subduing to any fads or technical simplifications, Extra X96 Triplex reflects a mature and elegant imprinting.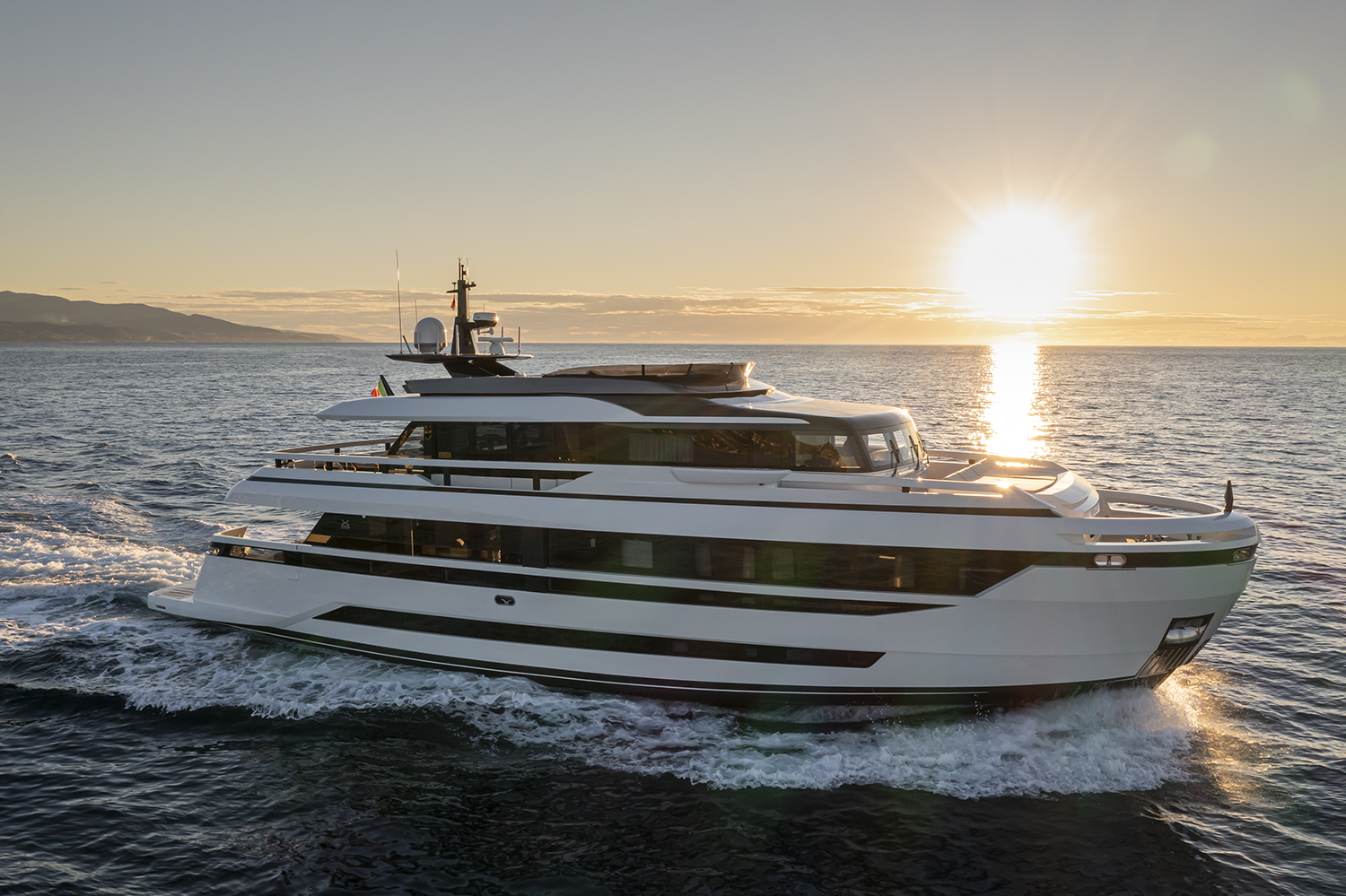 Her external lines were designed by Francesco Guida in collaboration with the proven designers from Palumbo Superyachts, while the interiors are by the international studio Hot Lab. The internal layout has been customized in order to include six double cabins located as follows: two VIP cabins and two twins on the lower deck, a 40 sqm owner cabin on the main deck forward, and a VIP cabin on the upper deck.
The large opening floor-to-ceiling windows on both the main and the upper decks create a powerful indoor-outdoor connection, interlacing the yacht and nature into something that celebrates the two of them together.
Thanks to her 23.8m hull length, Extra X96 Triplex falls under the CE category for recreational craft up to 24 meters, with significant benefits in terms of management. Drawing on three powerful Volvo Penta IPS engines of 1000hp each, the propulsion system of X96 Triplex will be capable of reaching a maximum speed of 17.5 knots and cruising at 12 knots.
Delivery of the fourth hull is scheduled for summer 2024. This is the second consecutive X96 sold by Aberton Yachts following the sale of Hull #3 that is slated for delivery this summer 2023.
Extra Yachts
is specialized in the development of yachts from 76' to 130' characterized by maximum liveability interior and exterior and reduced consumption. Exploiting the advanced technical experience and world-class Italian craftsmanship typical of ISA Yachts, Extra Yachts offers customers all the advantages of being part of Palumbo Superyachts. In addition to Extra, the Palumbo Superyachts network also includes: ISA Yachts, Columbus Yachts, Mondomarine and Palumbo SY dedicated to refit.
Credits: Extra Yachts