Wally
had unveiled the futuristic-looking 27m (88' 9") WHY200, the latest motor yacht to come from the visionary team headed by chief designer Luca Bassani, alongside Ferretti Group's Engineering department, with naval architecture from Laurent Giles NA and interior design by A. Vallicelli & C Studio.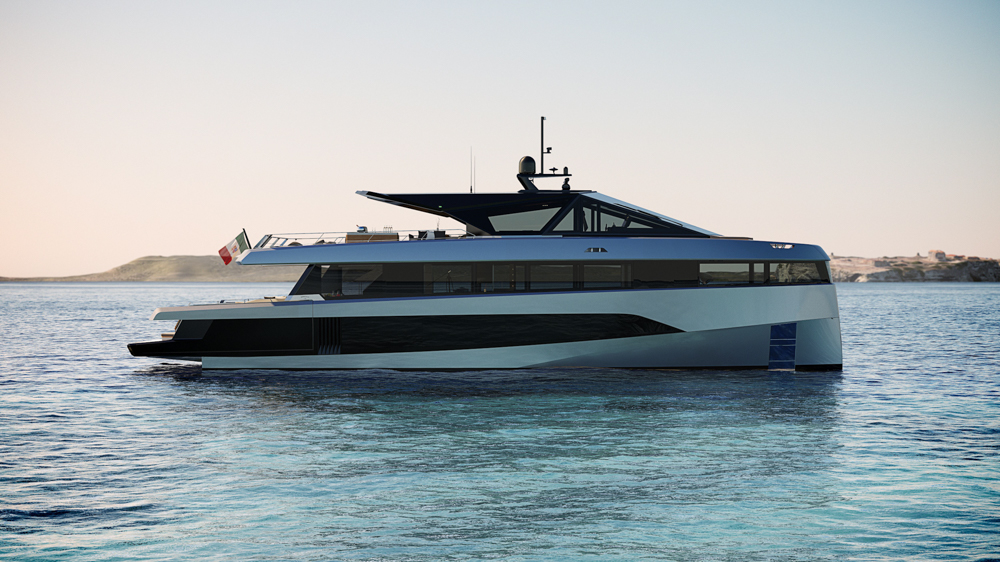 The new compact yacht weighs in at 200 GT and under 24m (78'8") load line length, but conveys the comfort and space of a much larger displacement yacht alongside the speed advantages of a semi-displacement yacht.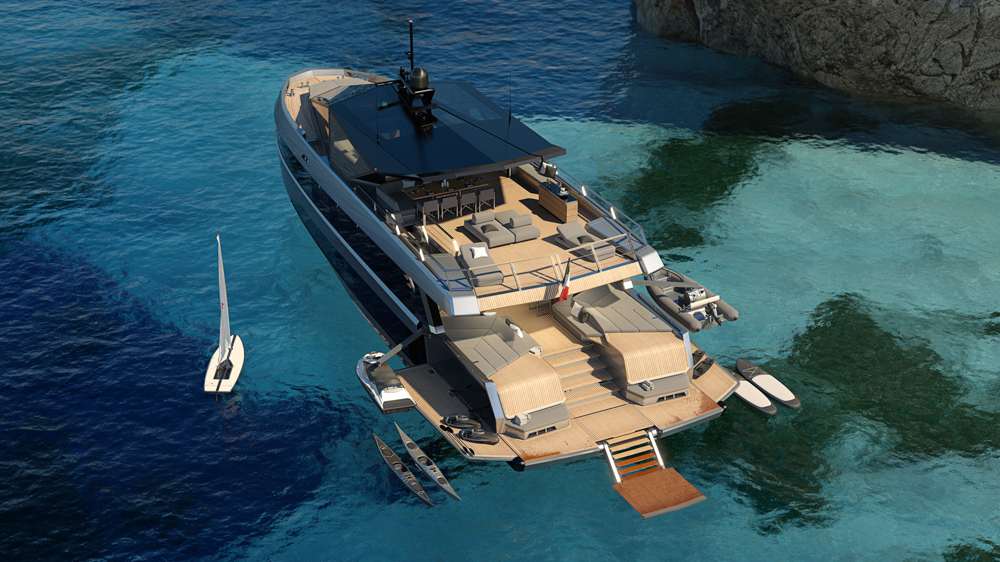 By absorbing prized space conventionally used for exterior walkways into a full-beam salon, the WHY200's 61-m2 open-plan contemporary living area is significantly increased. Being 50% larger than most salons in it's category, the expansive space benefits from a structural central carbon fiber staircase, linking the accommodation on the lower deck to the upper deck's stunning glass-encased sky lounge. Additionally, an informal show kitchen can be fitted as an optional layout.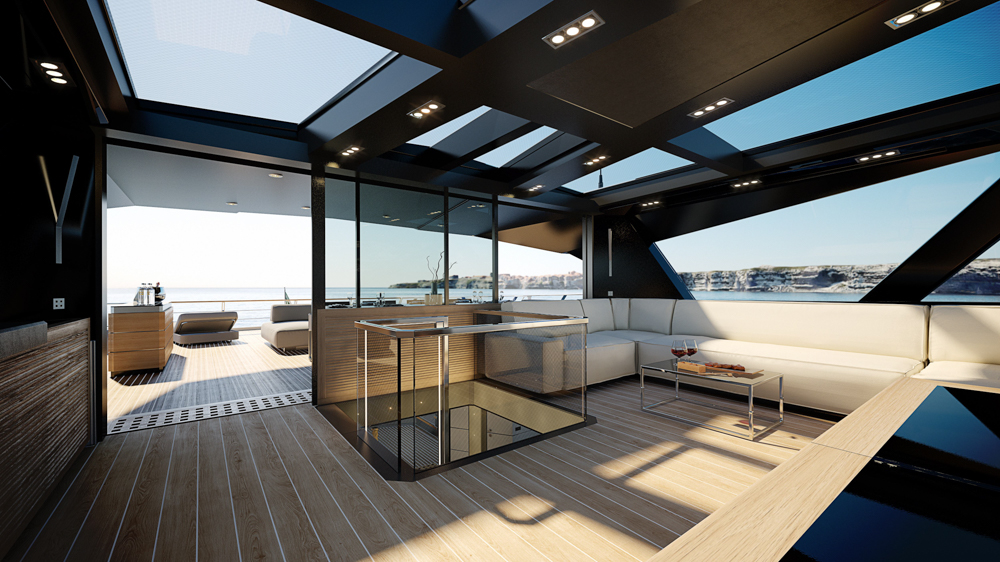 The WHY200 also provides more than 200 m2 of indoor living space, including a 22 m2 upper deck interior and a 100 m2 main deck interior. The lower deck has a typical footprint for the yacht's length, given over to three or four double guest cabins (depending on the choice of layout), while the crew and service quarters have the largest capacity for its class, with a galley and three cabins for up to five crew members spread over 32 m2. A spacious owner's suite located in the bow and offers uninterrupted 200-degree views through vast windows.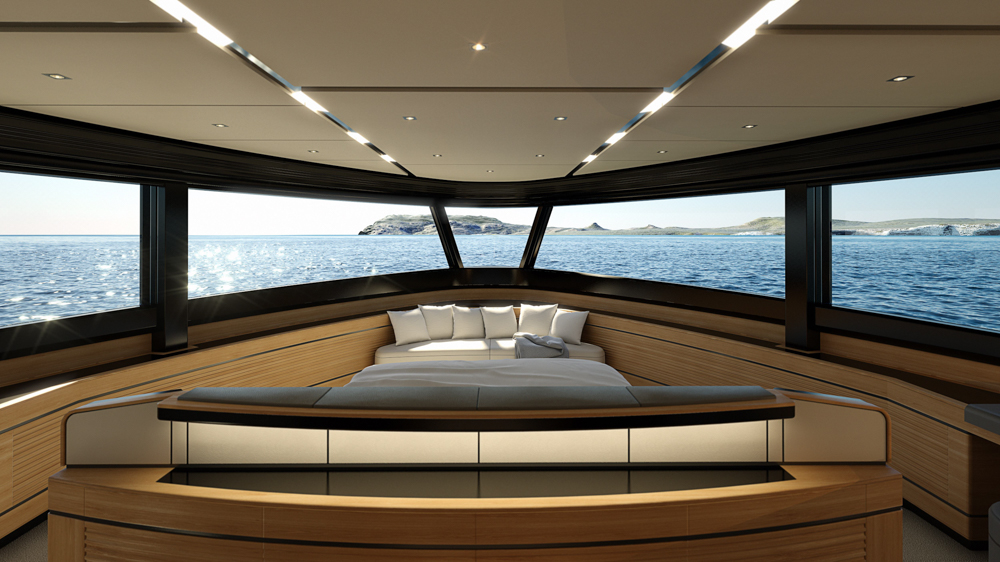 "Providing owners with an elevated experience on board has always been central to our mission at Wally. We have had a longstanding vision to create a wrap-around main deck in glass that would provide so many lifestyle benefits to the owner, and now finally the technology has made this possible, unlocking game-changing extra interior volume on this deck. It has allowed us to create a sensational and unprecedented 37m2 (398 sq.ft.) owner's suite at the bow, which takes the on-board experience to a whole new level. Imagine the feeling of waking up to uninterrupted 200-degree views through vast windows in the bow, as if you are floating above the water. It is a genuine marvel to behold; we are especially proud of what has been achieved with this revolutionary layout," commented Luca Bassani, Founder and Chief Designer of Wally.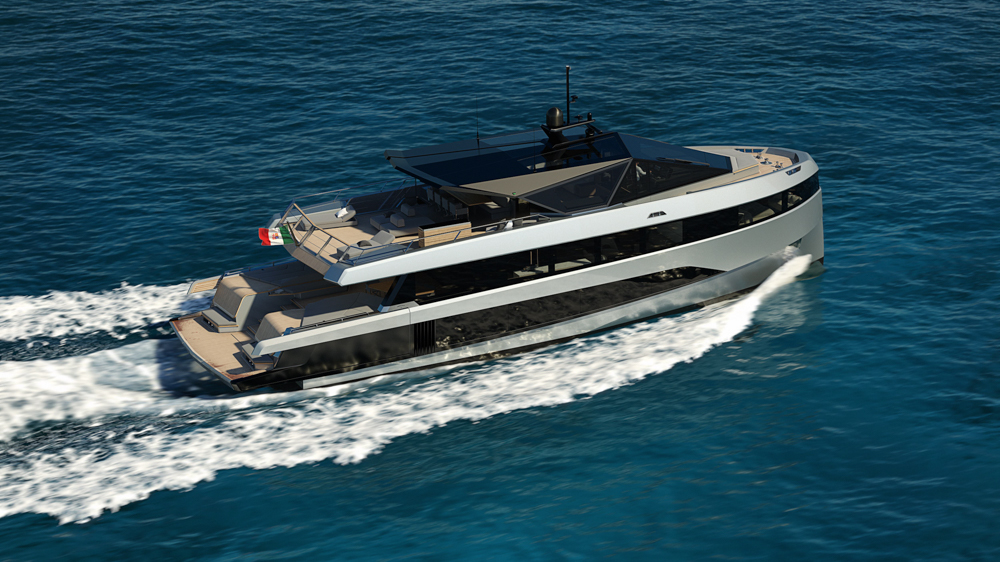 This hybrid yacht can cruise at 20 knots in hyper displacement mode.
The WHY200 will debut at the Ferretti Group Private Preview in Monaco at the beginning of September 2021.
Wally
is part of
Ferretti Group
. It was founded in 1994 in Monaco by Luca Bassani and is the only yachting brand to be a two-time winner of the ADI Compasso d'Oro, the world's most important award for quality and design.
Credits: Wally